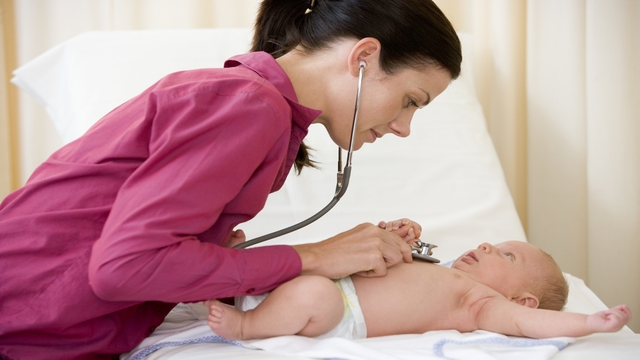 MonkeyBusiness Images/Photospin
If your baby has been diagnosed with acute respiratory distress syndrome, you may wish to go over these additional five questions with your pediatrician:
1. Besides the chest X-ray my baby has gone through, are there any other diagnostic tests he or she will be expected to take?
Diagnosis for respiratory distress syndrome (or hyaline membrane disease) is arrived at by running a combination of evaluations of test results.
• A chest X-ray is the first line of assessment. It exhibits the glass-like appearance of the membrane in a reticulo-granular pattern.

• EKG or an echocardiography recording the electrical signals of the heart showing any abnormal beats and rhythms may help with the differential diagnosis.
• Blood gas analysis which will indicate the amount of decreased oxygen, increased carbon dioxide and acid in arterial blood.
• Mother's medical history especially with respect to diabetes and preterm labor.
2. What line of treatment will you give my baby?
That depends from case to case, the baby's health, condition, etc. There are a number of effective treatment options available though. It must be kept in mind that doctors decide on the line of treatment depending on a number of factors specific to your case, such as weight, health, gestational age of the baby, baby's tolerance to medications and treatments, mother's medical history, other doctors' and your (parent's) opinions.
• Continuous positive air pressure (CPAP) – The CPAP is a mechanical breathing device that does the breathing for the baby whereby oxygen is delivered in a small amount of pressure through tubes that go into the nostrils of the baby. It automatically pushes oxygen-filled air continuously to the airways of the infant so that his/her bronchioles, etc., remain open and do not collapse or close.
• An endotracheal tube is sometimes used in the case the situation becomes worse. An external mechanical device is inserted into the trachea or windpipe of the baby to give intermittent breaths.
• Extracorporeal membrane oxygenation is another treatment option, providing oxygenation through an apparatus that imitates the gas exchange process of the lungs to baby's who are closer to normal birth weights.
• Surfactant replacement may be done once the infant is on the respirator. This process helps (administering the surfactants through the airway passage) alveoli open more easily. It is called replacement because they are either synthetically produced or surfactants drawn from the lungs of other animals is used to replace and temporarily bring relief. Surfactants could be used as prophylactics in high risk babies or as rescue medicines.
• Nasal cannulization is sometimes done in mild cases, where a tiny and soft catheter is inserted into the baby's nostril to deliver oxygen.
• Fixing a tiny and soft umbilical catheter in the navel of the baby through which it can be connected to one to two blood vessels of the baby's umbilical cord.
• Medications to help relieve other apparent symptoms.
In addition to this, intravenous fluids are given to restore blood salt and sugar levels, rehydrate the body and maintain blood pressure.
3. Will there be any involvement of surgical procedures?
No other surgical procedures besides the fitments procedure options mentioned above is generally required. However, your doctor will be the best person to update you on this.
4. Are there any chances of complications arising in acute respiratory distress syndrome?
Babies with ARDS/HMD sometimes develop complications of the disease or problems as side effects of treatment. As with any disease, more severe cases often have greater risks for complications such as
• air leaks of the lung tissues: pneumomediastinum, air leaks into the mediastinum; pneumothorax, air leaks into the space between the chest wall and the outer tissues of the lungs or even pneumopericardium, air leaks into the sac surrounding the heart.
• chronic lung disease, sometimes called bronchopulmonary dysplasia.
5. What can we do to prevent this in the future?
If you wish to have another baby sometime in the future, preventing a preterm birth is the primary means of preventing HMD. When a preterm birth cannot be prevented, giving the mother medications called corticosteroids before delivery has been shown to dramatically lower the risk and severity of HMD in the baby.
ALL INFORMATION GIVEN IN THIS ADVOCACY SHEET IS TO BE CHECKED WITH YOUR DOCTOR BEFORE IMPLEMENTING THEM OR TAKING THEM AS STANDARD OR VERIFIED.
Mamta Singh is a published author of the books Migraines for the Informed Woman (Publisher: Rupa & Co.) and the upcoming Rev Up Your Life! (Publisher: Hay House India). She is also a seasoned business, creative and academic writer. She is a certified fitness instructor, personal trainer & sports nutritionist through IFA, Florida USA. Mamta is an NCFE-certified Holistic Health Therapist SAC Dip U.K. She is the lead writer and holds Expert Author status in many well-received health, fitness and nutrition sites. She runs her own popular blogs on migraines in women and holistic health. Mamta holds a double Master's Degree in Commerce and Business. She is a registered practitioner with the UN recognised Art of Living Foundation. Link: http://www.migrainingjenny.wordpress.com and http://www.footstrike.wordpress.com