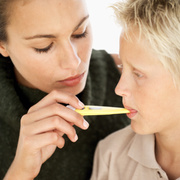 Stockbyte/Thinkstock
I had lots of things planned for my kids over summer break. Getting sick was not one of them.
It is hard enough to see your child feeling miserable, but it is an even bigger challenge when you have one sick kid and two other healthy and energetic ones.
It was the first week of official summer break. The routine was good. The kids were already enjoying being home.
On Friday, my oldest son woke up and came downstairs looking pitiful and tired. His dark brown eyes were droopy and red.
As I hugged him, I could feel his hot skin as it touched my cheek. He was burning up with a fever.
I tried to make him comfortable but for days all that my little boy could do was walk downstairs, collapse on the couch and watch TV for awhile until he would get tired enough to go back upstairs for a nap.
He had no energy and no appetite. I tried to manage his aches and pains with medicine to keep him comfortable.
As I made sure that he got plenty of rest, I had two other little boys that were anxious to play. We were all feeling shut up in the house but we couldn't leave.
His fever lasted only two days but the other symptoms lasted for more than a week, plus, he developed an awful cough. I felt terrible to look into his glazed-over eyes and know how horrible he felt.
He didn't want to play and wouldn't eat anything. It is never fun to be sick but seemingly worse over any kind of break from school.
Slowly, he seemed to improve. I was hopeful that the rest of us would avoid this nasty bug. No such luck. Just as my oldest son's appetite returned, my youngest son got a fever.
We were on week two of being at home. The other boys were full of energy and longing to run it off.
Since we couldn't go anywhere, they turned to wrestling with each other, leaping over furniture, and all kinds of other creative things that I didn't want them doing.
I tried to give them project ideas to keep them busy but my youngest sick child was so needy that he just wanted to be held.
To complicate things even more, we were scheduled to leave for a week's vacation and I had so much to do to get ready.
As I rocked my son to sleep, I could hear the other two boys jumping onto something in the next room. I looked at my son's little red face, hot with fever and I thought about all the things that I had to do to get ready for our trip.
I was running out of time and didn't think that it could get much worse.
I was wrong.
The next day, I woke up with chills, aches and a fever.
Edited by Jody Smith