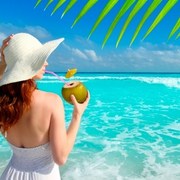 iStockphoto/Thinkstock
I have been lucky enough to have taken some great trips at all different times of the year but when I think of summer, it tends to go together with vacations.
A vacation is a break. A time for relaxing and indulging.
A vacation is something special. I do whatever I can to make those memories last.
When I am really looking forward to a trip that I have planned, it always seems like the time can't go by fast enough before the trip and then the trip itself goes by way too fast.
The travel home is like a huge let down. I try to do little things to savor the vacation moments.
First of all, I am the picture gal.
My husband and friends tend to roll their eyes and do not even pretend to disguise their embarrassment during the times of our trips that I ask employees of restaurants and bars and even strangers on the streets to take multiple group pictures of us.
My camera goes everywhere that I do. Yes, they tend to complain but once I share the pictures, we all enjoy them for years to come.
Photos can bring you back to a time that has past.
I can look at a vacation picture and a smile creeps over my face as I remember the sweetness of the tropical drink we are all holding or the laughter over the joke that was just told. I love the posed shots as well as the candid ones.
For me, documenting the trip is as important as the trip itself. And the really special photos get an equally important frame that I display somewhere that I can see everyday to remind me how important friends and family are.
The second thing that I do to prolong any trip is pick a special scent in travel sizes to bring on my vacation. My husband and I have very good friends that we have been fortunate enough to have shared several vacations, including three getaway trips to the beaches of Mexico.
On the very first trip, I choose a tropical scented shower gel and matching lotion to pack in my carry-on bag. I have brought the same scent every time we have gone back.
Our days in Mexico were pure leisure. Our mornings began with breakfast on the patio of the resort. I ate fresh fruit, warm pastries, and sipped my bold coffee as the sound of the waves hitting the beach set the tone for the day.
After a fulfilling breakfast, my husband and I would walk the beach shore hand in hand, playfully shoving each other towards the cool water as we looked for shells in the sand.
Next we would meet our friends at the pool determining a "drink of the day" or venture into town for some local shopping.
Our day of relaxing bliss would continue with time by the pool, lunch in the warm sunshine and if we felt like exercise, we would participate in water aerobics or usually more likely, a swim over to the swim-up bar.
The evening hours would approach and the hot sun began to retire as the sky filled with the bright colors of another beautiful sunset. Each couple went to their room to shower and get ready to meet for a fancy and decadent dinner.
I sang every night in the shower, loud and happy, as I used my tropical scent. The fragrant suds washed away the sunscreen from the day. I smoothed the matching scent over my tanned skin as I slid into sleeveless evening dresses.
We ate, laughed, drank and danced until we were tired enough to retreat back to our rooms. We crashed onto the soft, fluffy beds where we fell fast into restful sleep, preparing for the next joyful day of vacation.
When I am home and I use these bath products, I remember. And it always tends to put me in a good and relaxing mood.
Edited by Jody Smith