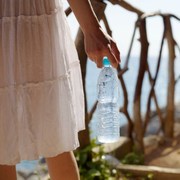 iStockphoto/Thinkstock
With time flying by, it's already July, and summer time is in full swing!
Although most of us have been thinking about working on our beach bodies for the last couple of months, others are more prone to procrastination.
Two important things to remember:
1) There's no time like the present.
2) A majority of health, weight-loss and fitness goals are reached in the kitchen through healthy food choices.
That's why Felicia Stoler, registered dietitian and author, recommends eating preventively by checking labels and making healthy and informed food swaps.
Stoler explains, "Whenever food manufacturers remove key ingredients such as fats, salt or sugar, they usually replace them with something else to preserve the product's taste, shelf life or consistency. For example, the amount of fat may go down but sugar content goes up. That's why label reading is important."
Some simple food swaps:
Instead of: High calorie energy bars can often be high in sugars and fats.
Consider: Looking for a bar higher in protein and fiber that will help maintain a more steady blood sugar, keep you full and satiated, and help repair those muscles you're working so hard in the gym!
Instead of: Nutrient enriched waters can be really good at hiding sugar and calories. Check the labels on your nutrient-enriched water to discover how much sugar is in just one serving size.
Consider: DIY water or fresh juice. Felicia Stoler suggested, "Make your version by spiking club soda with fresh juice. Or have a glass of Minute Maid® Premium HeartWise® orange juice with CoroWise® plant sterols. This is the first orange juice clinically proven to reduce cholesterol."
Try diluting your sugary drink with water, I promise, there will still be enough sugar!
Instead of: "Multi-grain" or "7-grain" breads can contain white flour but simply add some grains for labeling claims.
Consider: 100% whole grain breads. There's no tricky label reading involved when you're getting a product that is straight-forward.
Swapping food goes beyond snacks and everyday food choices. Consider food swaps when cooking, baking, or drinking, with these fun tips!
(Think mashed cauliflower instead of mashed potatoes, greek yogurt instead of sour cream, or coconut milk instead of cream).
And remember, although label reading is becoming increasingly important in this day and age, it's best to stay away from processed foods, and aim to consume a diet consisting mostly of fresh, whole foods. After all, you wouldn't put cheap fuel in your Ferrari, would you?
Sources:
Email interview with Felicia Stoler, RD. June 26, 2012.
80 Healthy Recipe Substitutions | Greatist.comHealth and Fitness Articles, News, and Tips – Greatist.com. (n.d.). Greatist - Health and Fitness Articles, News, and TipsHealth and Fitness Articles, News, and Tips – Greatist.com | The web's trusted, relatable source for health & fitness articles, news, and tips. Retrieved July 1, 2012, from
http://greatist.com/health/healthy-recipe-substitutions/#
Reviewed July 3, 2012
by Michele Blacksberg RN
Edited by Jody Smith