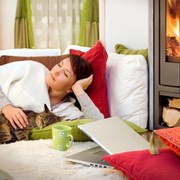 Hemera/Thinkstock
Do you ever have dreams where you are reunited with loved ones that have passed away? I have these on occasion and I usually wake up emotional, sometimes even with my face wet with tears.
I'm aware of unconscious sadness for those that I miss and indescribable happiness for the opportunity that I feel that I have experienced. Once awake, it takes a minute to process what I am feeling.
I was lucky enough to have one of those dreams a few weeks ago.
We lost our cat, a true family member of 11 years, on a very sad day last June. Our kids still talk about him everyday. We were all affected deeply with his death.
Each day, I continue to miss him. I miss his little wet nose poking my face to wake me in the morning. I miss his soft fur and the way he rubbed against my leg as I made my coffee, begging to be fed.
I miss his purring as I held him, cuddled him like a baby and told him he was the best cat in the world. Some nights as I fall asleep, I can almost feel the weight of his body on my back, the place he would like to lay.
The dream started with me finding a kitten in my house. It was tiny. It fit in the palm of my hand as I picked it up.
But once I held it, the kitten began to grow. As he grew, I held onto him, supporting his weight. I soon realized that this kitten was actually our cat.
The dream seemed to go on for hours. I never put him down. When my legs grew tired, I sat down on the floor. In my dream, I continued to stroke his soft fur and rub his ears and under his chin, exactly how he liked it.
I knew my dream was coming to an end as his warm body began to feel hard. I continued to hold him tight but before long, in my dream, I was only holding a book. Even in the dream, my chest felt hollow.
When I awoke, it felt so real. I did not feel rested but I felt like I had just spent the last few hours with a much missed friend.
Dreams are fascinating to me. Sometimes they can be just what you need. I have been fortunate enough to not have experienced much loss but somehow I do continue to dream about those who have passed on. And when I do, it's always rewarding.
Edited by Jody Smith