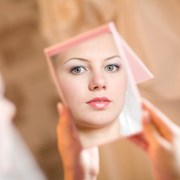 iStockphoto/Thinkstock
I won't pretend that I have never thought about it. As I gaze at the mirror, I can find plenty of things about my body that I wouldn't mind changing.
I would love to have my flat, pre-child stomach back. The thought of my "mommy middle" erased with the help of a surgeon in one afternoon instead of endless hours of sweating at the gym does sound tempting from time to time.
I wonder how long it would take to remove just five pounds of fat from each thigh. A little nip, a little tuck.
It seems so common. I have many friends that have already had some form of plastic surgery or are considering it.
Yes, sometimes I think about it. But I doubt that it would ever happen. I would never make that call. I would never book that consultation.
I am a big chicken when it comes to any kind of surgery. The closest I ever came was when I looked into LASIK eye surgery.
I have worn glasses since third grade. Most of my teenage and adult life, I have seen the world through contact lenses.
I have never known what it is like to wake up and not fumble for glasses. I have never been able to wake up and see.
So with much persuasion from my husband, I made an appointment to talk to an eye specialist about this procedure. Although the thought of having the surgery done made my stomach start flipping, I knew that the payoff would be great.
The thought of never again having to wear contacts or glasses would be well worth any short term discomfort or nervousness that I would experience.
I could be strong. I would be brave.
On my second appointment, I signed all the papers and put down the deposit. My hands were sweating so badly that I could hardly write down the day and time of my appointment.
I could not think about the fact that I was actually paying someone to perform an elective surgery on my eyes.
I was asked to come in prior to the surgery day so I would be prepared for what would occur and be made aware of all directions during and following the procedure.
My husband stayed in the waiting room with me until our toddler grew restless then he took him outside. I sat and waited as I rubbed my wet palms together and tried to count the number of patterns on the dark carpet.
It was then that I heard two post-op patients talking to one another in chairs behind me.
I lost my breath as they compared stories of their surgeries, both pleased with the results and so glad that the surgery part was over. They were in agreement about what parts were the most uncomfortable and difficult.
My knees felt like jelly. I felt light-headed.
The walls seemed to be closing in on me. I couldn't breathe in that room. I stood up on my wobbly legs (here is the chicken part) and ran straight out the door.
I couldn't wait for the elevator. I ran down the stairs and out onto the safety of the sidewalk.
I gasped for long breaths of air. My body folded over and I held my knees with my hands. My body was still shaking.
I wondered how I would ever get the strength to go through with it.
During my last appointment with the doctor, I was told that due to my dry eye issues, I was not a candidate for LASIK surgery after all. (That would have been helpful to have known prior to my waiting room panic attack.)
I was given other surgery options that I decided against. Elective surgeries are not something that I see in my future.
Edited by Jody Smith