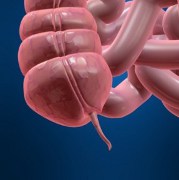 Photo: Getty Images
An appendectomy is surgery to remove the appendix, which is a small extension of the intestines. Appendectomy is the most common emergency surgery performed worldwide.
It is the standard treatment for inflammation of the appendix, known as appendicitis. However, it may not always be necessary.
Dr. Luca Ansaloni and colleagues in Italy provided a review of the medical literature on appendicitis. Appendectomy surgeries have been performed since 1886. Since 1953, many authors have reported successful treatment of appendicitis with antibiotics.
Ansaloni found four reports of clinical trials that compared surgery to antibiotics in randomized studies. A total of 741 patients participated.
There were 390 patients who received antibiotic treatment. Of these, 114 failed to improve and received an appendectomy within 48 hours. The failure rate ranged from 5 percent to 47.5 percent in the four studies.
Ansaloni concluded that surgery is a more effective treatment overall. However, it is not harmless. Complications of surgery include small bowel obstruction that requires additional surgery in 1.3 percent of individuals. Participants in the surgery groups of the randomized trials reported more pain and took more medication for pain.
"Generally speaking, the quality of the four studies was quite poor," Ansaloni concluded. He explained that there were problems with randomization method and violations of protocol. Larger studies are needed to show whether surgery is generally superior to antibiotic treatment.
In another paper, Dr. Angela M. Ingraham of the Division of Research and Optimal Patient Care, American College of Surgeons, and colleagues found that delayed appendectomies are just as effective as those performed within six hours of hospital admission.
These authors studied records of 32,782 patients with acute appendicitis who had an appendectomy. Of these, 9.8 percent had their surgery more than 12 hours after admission. "In this retrospective study, delay of appendectomy for acute appendicitis in adults does not appear to adversely affect 30-day outcomes," Ingraham concluded.
The U. S. National Library of Medicine's PubMed Health web site provides more information on appendicitis. The first symptom is often pain around the belly button.
The pain generally moves to the lower right part of the abdomen, and may be accompanied by gastrointestinal symptoms including nausea, vomiting, and diarrhea or constipation, along with chills, fever, and shaking.
PubMed Health recommends that you call your doctor if you have abdominal pain, or any symptoms of appendicitis.
References:
1. Ansaloni L et al, "Surgery versus conservative antibiotic treatment in acute appendicitis: a systematic review and meta-analysis of randomized controlled trials", Digestive Surgery 2011; 28: 210-221.
http://www.ncbi.nlm.nih.gov/pubmed/21540609
2. Ingraham AM et al, "Effect of delay to operation on outcomes in adults with acute appendicitis", Archives Surgery 2010; 145(9): 886-92. http://www.ncbi.nlm.nih.gov/pubmed/20855760
3. U. S. National Library of Medicine. PubMed Health. Appendicitis. Web. Dec. 26, 2011.
http://www.ncbi.nlm.nih.gov/pubmedhealth/PMH0001302/
Reviewed December 27, 2011
by Michele Blacksberg RN
Edited by Jody Smith