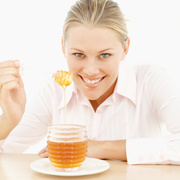 Photo: Getty Images
Antibiotic resistance of important bacteria such as Staphylococcus aureus motivates researchers to look for antibiotic potential in different sources. Honey is a promising candidate.
Dr. P. H. S. Kwakman and colleagues at the University of Amsterdam, The Netherlands, found that honey can kill a number of bacteria in lab studies.
"Honeys collected from the natural environment, including Manuka honey, which is used for the production of most currently available medical-grade honeys, show large variation in antibacterial activity," Kwakman explained.
His study used Revamil(R) medical-grade honey, provided by a Dutch company. The honey showed rapid activity against Staphylococcus epidermidis, Pseudomonas aeruginosa, Enterococcus faecium, and Burkholderia cepacia.
Kwakman and colleagues were interested primarily in wound infections by bacteria that are resistant to current antibiotics. They tested the honey at several dilutions to simulate practical use, when exudate from the wound can be expected to dilute the preparation applied to it.
Even at 40 percent volume/volume dilution, the honey reduced live concentrations of the bacteria above to undetectable levels within two hours.
Methicillin resistant Staphylococcus aureus (MRSA) and extended-spectrum beta-lactamase (ESBL)-producing Escherichia coli cause infections that are difficult to treat. The honey alone did not kill them rapidly.
Kwakman and colleagues tried enriching the honey with components believed to be most effective. When they added the synthetic peptide Bactericidal Peptide 2 to the honey, the resulting mixture rapidly killed all bacteria tested.
"This offers prospects for the development of clinically applicable honey-based antimicrobials with rapid and broad-range microbicidal activity," Kwakman concluded.
Honey has wide potential for wound healing, ulcers, and burns, according to Noori S. Al-Waili of the Life Support Technology Group, New York, and colleagues. "Honey is a natural product that has been recently introduced in modern medical practice," Al-Waili wrote.
He explained that wound healing is important because each year, more than 1.25 million people in the United States suffer burns, and another 6.5 million have chronic skin ulcers. Honey has been used to aid in the wound-healing process as well as in preventing or treating infection.
I found 29 clinical trials for medical uses of honey currently (Jan. 8, 2011) listed on the U. S. registry at http://clinicaltrials.gov/ct2/results?term=honey/
References:
1. Kwakman PHS et al, "Medical-grade honey enriched with antimicrobial peptides has enhanced activity against antibiotic-resistant pathogens", Eur J Clin Microbiol Infect Dis 2011; 30: 251-57.
http://www.ncbi.nlm.nih.gov/pubmed/20927564
2. Al-Waili NS et al, "Honey for wound healing, ulcers, and burns; data supporting its use in clinical practice", ScientificWorldJournal 2011; 11: 766-87. http://www.ncbi.nlm.nih.gov/pubmed/21479349
Reviewed January 18, 2012
by Michele Blacksberg RN
Edited by Jody Smith