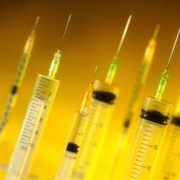 George Doyle/Stockbyte/Thinkstock
When was the last time you had a tetanus shot? Have you had your adult pertussis booster yet? Do you get the recommended influenza vaccine every year?
And what about those other adult vaccinations: pneumococcal, hepatitis, diptheria, human papillomavirus, and shingles?
If you're like most American adults, you're not up to date on all the vaccinations recommended by the Centers for Disease Control and Prevention (CDC). Some of these are recommended for all adults, and others for individuals in specific risk groups.
Tetanus, diptheria, and pertussis booster shots are recommended for all adults. The tetanus shot is recommended once every 10 years. According to CDC estimates, about 64 percent of Americans age 19 to 64 years has a current tetanus vaccination. The number drops to 53.4 percent for adults age 65 and older.
One of the tetanus booster shots should be the combined vaccine called Tdap, for tetanus, diptheria, and acellular pertussis. Pertussis is commonly called whooping cough.
Donna Gordon Blankinship reported in Bloomberg Businessweek that Washington state has declared a pertussis epidemic April 3, 2012, after 1,280 cases were reported. A Business Wire report in The Wall Street Journal encouraged clinical laboratories to be prepared for continued pertussis outbreaks.
According to the CDC, only 8.2 percent of Americans age 19 to 64 years are up to date on pertussis vaccination.
Pneumococcal vaccination is recommended for all adults age 65 and over, plus high-risk adults age 19 to 64 years. High-risk conditions include diabetes, heart conditions, lung conditions, kidney disease, and smoking.
The CDC estimates that pneumococcal vaccination coverage is only 18.5 percent for the high-risk group. For adults age 65 and over, coverage is 59.7 percent.
Herpes zoster vaccination is recommended to prevent shingles in adults age 60 and over. Only 14.4 percent of this population is estimated to have received the vaccine.
Influenza vaccination is recommended for every adult, every year. Approximately 40.5 percent of adults follow this recommendation.
Other vaccinations are recommended for some adults, based on age and health history. The CDC publishes a complete schedule of recommended vaccinations online. See your doctor for a review of your status.
Dr. Walter W. Williams of the CDC commented, "Substantial improvement in adult vaccination is needed." The CDC continues to encourage higher vaccination coverage for all Americans.
Sources:
Centers for Disease Control and Prevention, "Adult Vaccination Coverage – United States, 2010", MMWR 2012 Feb 3; 61(4): 66 – 72. http://www.ncbi.nlm.nih.gov/pubmed/22298302
Market Watch. The Wall Street Journal. Business Wire. Web. May 29, 2012.
http://www.marketwatch.com/story/gold-standard-diagnostics-alerts-clinical-laboratories-to-prepare-for-continued-bordetella-pertussis-whooping-cough-outbreaks-2012-05-30
Whooping Cough Epidemic Declared in Washington State. Donna Gordon Blankinship. Bloomberg Businessweek. Web. May 29, 2012.
http://www.businessweek.com/ap/2012-05/D9UMG1SO0.htm
Centers for Disease Control and Prevention. Web. May 29, 2012.
http://www.cdc.gov/flu/professionals/vaccination/coverage_1011estimates.htm
Recommended Immunizations for Adults. CDC. Web. May 31, 2012.
http://www.cdc.gov/vaccines/schedules/downloads/adult/adult-schedule-easy-read-bw.pdf
Reviewed June 11, 2012
by Michele Blacksberg RN
Edited by Jody Smith