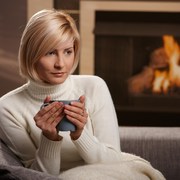 MonkeyBusiness Images/PhotoSpin
Thanksgiving is over, the leftovers devoured and shopping has begun. Many are beginning to decorate their houses for the holidays and plan for the parties at schools, neighborhoods, work, and with friends.
It's the time of year when delicious food becomes a focus, as everything revolves around sugar and butter. This often means that well-intentioned plans of staying healthy fall by the wayside until January second.
Don't get down on yourself. Use these 5 tips to help keep you balanced through the rest of the year.
First, be good when you can.
Specifically, pay attention to what you eat for breakfast, lunch and dinner if you are going to snack on treats during the day and enjoy parties at night. Focus on foods with high protein and vegetables, such as a smoothie, or eggs and spinach in the morning.
Eat vegetable chicken soup and salad for lunch. Then choose lean protein, vegetables, soups and salads at night.
When you find yourself reaching for cookies or fudge during the day, grab carrots or celery and start crunching. The sound of the crunch is satisfying and may take your mind off the sugar cravings.
Second, do not ignore your exercise routine.
In fact, consider taking it up a notch. Burn off the extra drinks, the coffee cake, the chocolate pretzels and the sugar cookies.
If you normally exercise three days per week, increase it to four. If you have a typical routine, shake it up with a new class.
Search options online so that you can work out from home instead of heading to the gym due to time constraints.
Third, plan ahead.
All that sugar, fat and alcohol can make one feel bloated, heavy, sluggish and puffy. Consider taking digestive enzymes when you eat to help your body digest all those heavy foods better. Probiotics can help with intestinal health, the immune system and may improve bloating.
All the rich foods may make one prone to gout. Research shows that eating cherries or drinking cherry extract can prevent this painful joint condition.
Fourth, fall back on common tricks used during the season.
Eat before a party to feel full. Drink water and remain hydrated or opt for sparkling water instead of alcohol.
Walk away from the table full of food or the trays of snacks brought to work. Give away baked goods as gifts instead of keeping them around the house or limit the amount of sugar allowed in your house during the season.
Choose your snacking wisely – only go for things you really want or only get once a year instead of something you could eat anytime.
Fifth, manage your stress.
'Tis the season for meltdowns and family drama. Between the baking, cooking, planning, travelling, packing, organizing, shopping, wrapping and managing ... remember to take some time for you. Get a good solid eight hours of sleep so that you wake up refreshed in the morning.
Say "no" to things that really aren't that important and choose not to volunteer for everything. Divide out the responsibility amongst your family or friends when it comes to parties or gifts and remember to make your list and check it twice to stay organized.
Research:
1. Cherries May Prevent Gout Flares. Web. 25 November, 2012.
http://www.medscape.com/viewarticle/772073
2. Use of Probiotics in Gastrointestinal Disorders. Web. 25 November, 2012.
http://www.medscape.com/viewarticle/736305
Reviewed November 26, 2012
by Michele Blacksberg RN
Edited by Jody Smith