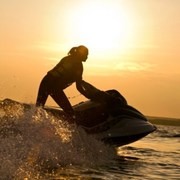 Photo: Getty Images
Kristine Hillyer, 53, of Orting, Wash., felt like a prisoner in her own body. She was out of breath just walking from one room to another in her house.
A former dock worker on weekdays and jet skier on weekends, she felt like she had no life and her health problems were getting worse, including severe acid reflux and high blood pressure.
Her weight was ballooning and no diet program seemed to work, or if it did, the weight always came back. She went from a dress size 10 to a size 24!
At her stage of morbid obesity, where chronic health issues were mounting that could shorten her life, Kristine was the right candidate for bariatric surgery and was primed for all the mental, nutritional and lifestyle counseling that would be required to make a permanent change.
In 2009 she proceeded with gastric bypass surgery, one of a number of approaches for people in this condition. Today Kristine is 115 pounds lighter, enjoying life with her college freshman daughter, and feels like she "got out of jail."
You can hear her story and learn more from her doctor, Dr. Saurabh Khandelwal, Director of the Bariatric Surgery Center at the University of Washington Medical Center in Seattle.
I also interviewed another bariatric specialist for that program, Dr. Andrew Wright, also from the University of Washington. They explained who should consider the surgery, and which approach may be right for a given patient.
They also explained the commitment that is required from each patient and the comprehensive program that should be expected from a center that is truly dedicated to a patient's success.
The program, "Weight Loss Surgery: Could It Be Right for You?" can be found here: http://goo.gl/O1vub
Now, with 20 years' experience with bariatric surgery, comprehensive recent research shows that the benefits for individuals are significant, not just losing weight and keeping it off, but in lowering one's risk for complications from many chronic conditions, and even cancer.
Going under the knife certainly shouldn't be one's first approach to losing weight, but when you are so obese that just moving from room to room is tough and other serious conditions are taking their toll, it is certainly worth considering seeing a bariatric specialist. As Kristine said, "They saved my life."
About the author: Andrew Schorr is a medical journalist, cancer survivor and founder of Patient Power, a one-of-a-kind company bringing in-depth information to patients with cancer and chronic illness. Audio and video programs, plus transcripts, help patients make informed decisions to support their health in partnership with their medical team.
Patient Power is at www.PatientPower.info and on Facebook, YouTube and Twitter. Schorr is also the author of "The Web Savvy Patient: An Insider's Guide to Navigating the Internet When Facing Medical Crisis" found at www.websavvypatient.com/
Resource:
Interview with Saurabh Khandelwal, M.D. Director, Bariatric Surgery Center , UW Medicine; Andrew Wright, M.D., Associate Professor, Department of Surgery , UW Medicine and Kristine Hillyer, Orting, Wash., Gastric Bypass Surgery Patient, Recorded on 1/28/12 and online at http://www.patientpower.info/program/weight-loss-surgery-could-it-be-right-for-you
Reviewed February 14, 2012
by Michele Blacksberg RN
Edited by Jody Smith