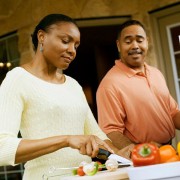 Photo: Getty Images
It's great you want to lose some extra pounds. Isn't everyone looking for that quick and easy way to do it? Detox diets and colon cleansing often are used to jump-start a weight loss plan. The truth is that any weight lost generally is water weight, and not permanent fat loss. There are no short cuts when trying to lose weight, and trying to do so can be risky for your health and end up causing more problems than you bargained for.
According to the Sparkpeople.com article online, "Detox Diets: Helpful or Full of Hype?", Becky Hand, Licensed & Registered Dietitian, said your body is designed to detox itself on its own. These types of diets and cleanses can disrupt your body's normal processes and cause you to have diarrhea, stomach upset, or feel excessively tired.
Your liver and kidneys are the purification centers of your body, filtering out toxins and pushing them out in waste products like urine and fecal matter. Did you know that you can exhale and sweat out toxins? Your body is designed to cleanse and protect itself.
The best way to lose weight remains adopting a healthy lifestyle including frequent exercise and healthy, nutritionally-sound eating.
Do you have a question about weight loss, exercise and healthy eating? Check out EmpowHER's pages. Sign-up, post a question, share your story, connect with other women in our groups and community, and feel EmpowHERed!
Resource:
Sparkpeople.com: Detox Diets: Helpful or Full of Hype?
EmpowHER: Detox Diets: Are They Beneficial?
Christine Jeffries is a writer/editor for work and at heart, and lives in a home of testosterone with her husband and two sons. Christine is interested in women's health and promoting strong women.