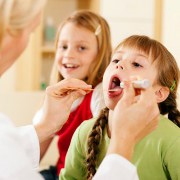 Photo: Getty Images
Every year, viral pharyngitis keeps many of us home from school or work.
According to the New York Times, the most common cause of a sore throat is viral pharyngitis. The New York Times stated, if your pharynx (the area between your tonsils and larynx) becomes inflamed you may have viral pharyngitis.
The University of Maryland Medical Center website claimed, ʺPharyngitis may occur as part of a viral infection that also involves other organ systems, such as the lungs or bowel.ʺ
Also, take note because a sore throat can also be caused by the bacteria called streptococcus. This is also known as the bacteria which causes strep throat.
Unfortunately viral pharyngitis is contagious. It is very difficult to prevent viral pharyngitis. If you come in contact with someone with a sore throat, wash your hands immediately. You should avoid sharing meals, utensils, and cups with anyone who may have symptoms of viral pharyngitis.
Symptoms of a sore throat caused by viral pharyngitis and the streptococcus bacteria may be the same. However, the only way to tell the difference between the two infections is with a simple throat culture. The pharyngitis virus will be negative on a throat swap culture.
Symptoms of viral pharyngitis can last 7 to 10 days. Viral pharyngitis symptoms include:
• Sore throat
• Discomfort when swallowing
• Swollen or tender lymph nodes in the neck
• Fever
• Joint pain or muscle aches
You are generally diagnosed with the pharyngitis virus by a throat examination from your physician.
According to Centra Care, Florida Hospital Urgent Care, here are some things you can do to reduce the pain of pharyngitis viral:
• Avoid acidic beverages like citrus juices or sodas
• Gargle with warm salt-water (mix 2 teaspoons salt to 1 pint water)
• Spray the throat with over-the-counter products like Cepacol, or try throat lozenges
• Stay hydrated by drinking plenty of fluids including warm fluids like herbal teas
• Take over-the-counter pain medications like acetaminophen or ibuprofen
The University of Maryland Medical Center stated, ʺIt is important to avoid antibiotics when a sore throat is due to a viral infection. The antibiotics will not help. Using them to treat viral infections helps strengthen bacteria to become resistant to antibiotics.ʺ
Contact your health care physician if your symptoms last longer than a week and if you have a fever.
References:
Pharyngitis - Viral - Symptoms, Diagnosis, Treatment of Pharyngitis - Viral - NY Times Health Information. Health News - The New York Times. Retrieved November 16, 2011, from http://health.nytimes.com/health/guides/disease/pharyngitis-viral/overview.html.
Pharyngitis - viral. University of Maryland Medical Center | Home. Retrieved November 16, 2011, from
http://www.umm.edu/ency/article/001392all.htm.
VIRAL PHARYNGITIS - Central Florida Urgent Care Walk-In, Board-Certified Doctor - What's Going Around. Urgent Care Walk-In, Board-Certified Doctors, Hospital - 20 Locations Central Florida - Centra Care. Retrieved November 16, 2011, from http://www.centracare.org/Home/Whatsgoingaround/tabid/14718/Default.aspx.
Viral Pharyngitis. Baptist Health Systems. Retrieved November 16, 2011, from http://www.mbhs.org/healthgate/GetHGContent.aspx?token=9c315661-83b7-472d-a7ab-bc8582171f86&chunkiid=11467
Reviewed November 16, 2011
by Michele Blacksberg RN
Edited by Jody Smith