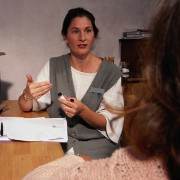 Photo: Getty Images
Women's health and disease are extremely important topics. They are especially great topics in the new year, when so many women are deciding to make resolutions about becoming more healthy.
This year, 33 percent of women in the United States will be confronted with making the decision about having a hysterectomy procedure as a solution to health symptoms that they have been experiencing. Women's health issues can be painful and exhausting. It can be frustrating when your doctor is unable to come up with a solution after many attempts and sometimes years of trying. As a naturopathic physician, I offer alternatives that usually at a minimum help the patient deal with the issues and in best cases help resolve them all together. I want to be clear that there have been cases where I have recommended surgery, but I want women to have all the information before they decide which treatment is best for their situation.
A hysterectomy is a surgical procedure to remove the uterus, the organ that protects the fetus and helps it grow to full term. There are different types of hysterectomies: a partial or subtotal hysterectomy is where part of the uterus is removed but the cervix stays intact. A total hysterectomy removes the uterus and the cervix as well. A radical hysterectomy removes the entire uterus, the cervix tissue on the sides of the uterus and the top part of the vagina. The radical hysterectomy is usually recommended when the patient has been diagnosed with cancer.
The women's health issues that are most likely to lead to a doctor recommending a hysterectomy are the following:
• Uterine fibroids, which are benign growths in the uterus that can cause pain or irregular bleeding or other problems.
• Uterine prolapse--in this condition the uterus slides into the vaginal canal.
• Endometriosis, where the inside lining of the uterus gets displaced onto other organs. It continues to bleed and thicken like the tissue inside the uterus and causes pain and problems in the organs outside of the uterus.
• Abnormal vaginal bleeding coming from the uterus during times outside of the menstrual time.
• Chronic pelvic pain.
• Adenomyosis, or a thickening of the uterus.
• Cancer of the uterus, cervix, or ovaries.
In an article by Janis Graham featured on WebMD, "The Surgery You (Probably) Don't Need: Alternatives to Hysterectomies," it referred to a significant UCLA study that found that in almost 70 percent of cases, hysterectomy is "inappropriately recommended."
"Doctors like to stick with what they know, and they know how to do hysterectomies," said study head Michael S. Broder, M.D. "As a result, women may not be told about less invasive alternatives that may be nearly as effective."
If you are considering a hysterectomy seek out all the options before you make a final decision.
Live Vibrantly,
Dr. Dae
Dr. Dae's website: www.healthydaes.com
Dr. Dae's book: Daelicious! Recipes for Vibrant Living can be purchased @ www.healthydaes.com
Dr. Dae's Bio:
"Dr. Dae" (pronounced Dr. Day) Daemon Jones is a Naturopathic Physician who completed her training at the University of Bridgeport College of Naturopathic Medicine. She is certified as a General Practitioner by the North American Board of Naturopathic Examiners (NABNE). Dr. Dae provides tailored treatment to meet the unique needs of every individual she sees in her practice. She also provides specialized support for persons challenged by nutritional deficiencies, weight problems, hormonal and reproductive system disorders, attention deficit disorder and those experiencing chronic diseases. Dr. Dae is an adjunct faculty member for The Center for Mind-Body Medicine and Smith Farm Center for Healing and the Arts. She is the author of Daelicious! Recipes for Vibrant Living. Dr. Dae is a featured chef with www.myfoodmyhealth.com. Dr. Dae is a regularly featured writer for the Elite GoogleNews Website empowher.com where she shares her personal and professional vision for living whole and living well. To learn more about Dr. Dae, her products and services, please visit her on the Web at www.Healthydaes.com.