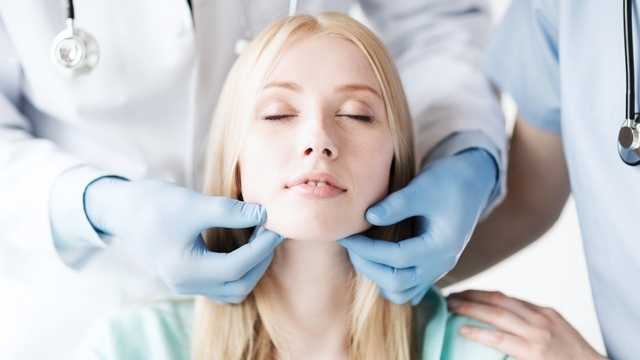 Lev Dolgachov/Photospin
Who would have thought something coming in at under two inches could cause such drastic changes in your body? The thyroid is a gland located in the middle of the lower neck and it has one main job … producing hormones.
It was estimated that nearly 62,980 new thyroid cancer cases were diagnosed in 2014 alone (47,230 in women and 15,220 in men).
According to the American Thyroid Association, an estimated 20 million Americans will develop some sort of thyroid condition throughout the course of their lives. And with the increasing number of diagnoses every year it's important to know what it is, and what you need to ask your doctor.
Thyroid diagnosis come in two forms; overactive or hyperthyroidism (the thyroid releases more hormone than your body needs), and underactive or hypothyroidism, (the thyroid does not produce enough of the hormone). Although different, both lead to uncomfortable and sometimes threatening side effects. Some of the most common in both cases can include:
Overactive
• Weight loss
• Increased heart rate
• Anxiety and restlessness
• Feeling too hot
Underactive
• Weight gain
• Dry skin and brittle nails
• Tired and depressed
• Feeling too cold
A doctor can only prescribe treatments, such as medication, for thyroid conditions. It is common for your doctor to ask questions, which could include some variation of the following:
• When did you begin noticing symptoms?
• Are they consistent or do they come and go?
• Is there anything that improves or worsens your condition?
• How severe are your symptoms?
The most important questions that will be asked aren't the ones that your doctor asks you, but the ones you should and need to ask your doctor.
1) How can I best manage this with my current health conditions?
You should know if a new treatment would have an effect on other medications you are taking, or if it could potentially increase symptoms to another existing condition.
2) Is there a generic version of the prescriptions I am receiving?
Many times medication is expensive and the generic can be effective not only at treating your symptoms but may be cost efficient as well. Keep in mind, it is important not to switch back and forth between generics and non generics as the dosing can be different.
3) Are there alternatives to the approach you're taking, if so what are they?
Medication may not be the only solution. Doctors may also prescribe natural alternatives such as synthetic thyroxine, a natural extract that contains the thyroid hormone.
4) How long should I expect my condition to last?
Thyroid problems are vast. Some are permanent but not all of them. Symptoms may be drug-induced (from medication) and last only while the substance is being taken. Others are temporary and will resolve after 12-18 months with minimal possibilities of permanence.
5) Could my symptoms be the result of something else?
Symptoms can be caused as a side effect to drugs. Cold weather can affect TSH levels (which determine thyroid activity). Some food, know as goitrogenic, can enlarge the thyroid: including Brussels sprouts, cabbage, and kale.
6) How accurate is thyroid testing?
Certain things will not be detected. If you experience thyroid symptoms and have normal test results it is likely there is something interfering or abnormal.
Sources:
What are the key statistics about thyroid cancer? American Cancer Society. Retrieved Jan. 14, 2015.
http://www.cancer.org/cancer/thyroidcancer/detailedguide/thyroid-cancer-key-statistics
Hypothyroidism (underactive thyroid). Mayoclinic.com. Retrieved Jan. 14, 2015.
http://www.mayoclinic.org/diseases-conditions/hypothyroidism/basics/alternative-medicine/con-20021179
What is Thyroiditis. American Thyroid Association. Retrieved Jan. 14, 2015.
http://www.thyroid.org/what-is-thyroiditis
When Your Thyroid Levels are Fluctuating. Retrieved Jan. 14, 2015. Retrieved Jan. 14, 2015.
http://thyroid.about.com/od/gettestedanddiagnosed/a/thyroid-levels-fluctuating_3.htm
5 Thyroid Patterns That Won't Show Up On Standard Lab Tests. Chris Kresser. Retrieved Jan. 14, 2015.
http://chriskresser.com/5-thyroid-patterns-that-wont-show-up-on-standard-lab-tests
Reviewed January 15, 2015
by Michele Blacksberg RN
Edited by Jody Smith
Article Sources
What are the key statistics about thyroid cancer? American Cancer Society. Retrieved Jan. 14, 2015. http://www.cancer.org/cancer/thyroidcancer/detailedguide/thyroid-cancer-key-statistics Hypothyroidism (underactive thyroid). Mayoclinic.com. Retrieved Jan. 14, 2015. http://www.mayoclinic.org/diseases-conditions/hypothyroidism/basics/alternative-medicine/con-20021179 What is Thyroiditis. American Thyroid Association. Retrieved Jan. 14, 2015. http://www.thyroid.org/what-is-thyroiditis When Your Thyroid Levels are Fluctuating. Retrieved Jan. 14, 2015. Retrieved Jan. 14, 2015. http://thyroid.about.com/od/gettestedanddiagnosed/a/thyroid-levels-fluctuating_3.htm 5 Thyroid Patterns That Won't Show Up On Standard Lab Tests. Chris Kresser. . Retrieved Jan. 14, 2015. http://chriskresser.com/5-thyroid-patterns-that-wont-show-up-on-standard-lab-tests
Tags: