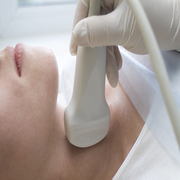 Photos: Getty Images
Did you know that roughly one in every eight women will develop a thyroid condition in their lifetime? The thyroid gland is a hormone-creating center of the body that sets your metabolism. When it isn't working properly, it can really mess things up.
Hypothyroidism is when the thyroid isn't producing enough T3 and T4 hormone, causing a slow metabolism. Symptoms may include unexplained weight gain, facial puffiness, fatigue, depression, brittle nails, goiter, sensitivity to cold, constipation, muscle pains and congestive heart failure.
Hyperthyroidism is an autoimmune defect, or can occur when the thyroid is inflamed and produces too much T3 and T4 hormone (Graves' Disease). Symptoms could include weight loss, hot flashes, nervousness, brittle hair, increased sensitivity to heat, difficulty sleeping, frequent bowel movements and muscular weakness.
According to a Lifescript.com article, thyroid conditions can be hard to detect because they can come on gradually over time and symptoms are often unrelated or non-specific. The test is generally not done unless there is a known genetic link to the disease.
Left undetected, thyroid conditions can cause elevated cholesterol levels and heart disease, along with high blood pressure and depression. Treatment often can be effective if properly diagnosed. If thyroid conditions run in your family, make sure to request the thyroid stimulating hormone (TSH) test from your health care professional.
Do you have a question about thyroid? Check out EmpowHER's pages. Sign-up, post a question, share your story, connect with other women in our groups and community, and feel EmpowHERed!
Resource:
Lifescript.com: 3 Commonly Misdiagnosed Conditions in Women
EmpowHER: Thyroid Disease
Christine Jeffries is a writer/editor for work and at heart, and lives in a home of testosterone with her husband and two sons. Christine is interested in women's health and promoting strong women.