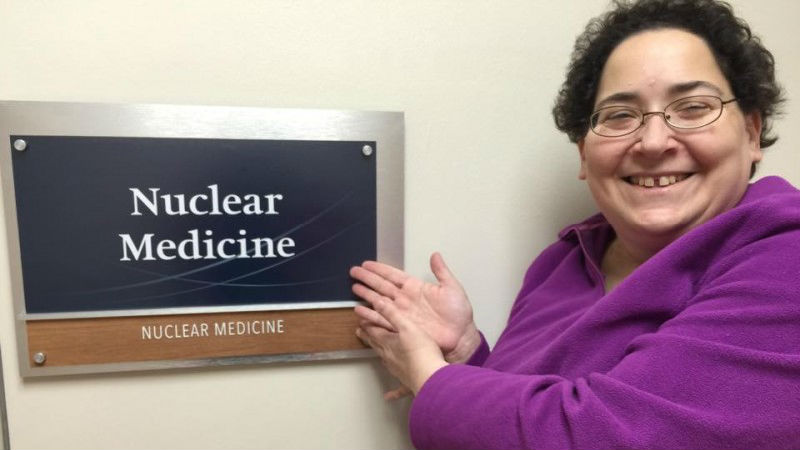 Jennifer Novak and I began our conversation on a bitterly cold February day in Washington, D.C. It was -2 degrees outside and Novak, 46, had just returned from meeting a friend for hot apple cider, a celebration after finishing two weeks of radiation for thyroid cancer.
Novak was anxious for the return the next day of her two cats, Prana and Pilates, who had been tucked away at a friend's house while Jennifer was, literally, radioactive.
But this is way more than a cancer story. This story starts in 2010 when Novak, then cancer-free, went to the doctor for a routine physical.
The Doctor Delivers an Ultimatum
"I was overweight and inactive. I ate so much fast food they recognized me by name at my local hamburger and fried chicken places. I came home from work every day to take a nap, exhausted by the strain of just getting through the day. I drove everywhere, even to the corner 7-11 to buy a Slurpee, which I drank in place of water," Novak wrote in her blog, Exercising the Heart.
Novak told me that she was accustomed to getting lectured by doctors about needing to lose weight. However, this time was different. The doctor wore a grave expression as she entered the room.
"She began to explain my test results and talk about my weight and lack of activity. She told me I was at imminent risk of developing heart disease and could have a heart attack at any minute if I did not lose weight and begin to exercise," Novak said.
Novak was 42 with a family history of heart disease. Her father had died of a heart attack at age 40 when she was just 5 years old. She knew the doctor wasn't exaggerating.
Having already lost and regained weight through a popular weight loss program — twice — Novak decided to get active instead. Someone had told her about a fitness dance class called Zumba. She weighed 250 pounds and was terrified, but she went.
"The class began with some warm up moves to music. I knew I was in trouble when I couldn't do the first one. Basically, bending over and touching my toes," Novak wrote in her blog. "My inability to do the warmup was not simply a lack of confidence. I could not bend over and touch my knees, let alone my toes, because my big stomach was in the way!"
At her first Zumba class, Novak lasted five minutes before she had to sit down. But she enjoyed the music and kept going, sometimes only able to move from side to side while the class danced around her. As the movements grew easier, she gradually added more classes to her schedule.
Changing her diet was a more gradual process. A month after starting Zumba, Novak was still eating fast food and sleeping a lot. Slowly, however, her diet began to change.
"I would like to say it was some epiphany about the virtue of nutritious eating, but no. All those Zumba classes were turning me into a lover of exercise. Healthy eating just followed because I didn't want all my hard work to be for naught!" Novak said.
Choosing Fitness over Downton Abbey?!
By the end of the year, Novak was attending four to five Zumba and three to four yoga classes a week and had lost 60 pounds, reducing from a size 3x to a Medium/Large. Friends and coworkers wanted to know her secret and often disbelieved her answer.
When she told them her weight loss was the result of consistent exercise and a balanced, healthy diet of whole, unprocessed foods, they were incredulous. And no one understood where Novak found the time to exercise.
"I explained that I exercised six to seven days a week for a minimum of one hour a day. I walked everywhere I could. I did not watch a lot of TV," she said. "I could never participate in water cooler discussions about Downton Abbey ... I had an active social life but I made my fitness time a priority."
Novak refused to miss a class in order to go out with friends. "My priority was taking care of my heart, and by natural extension, my entire self, by focusing on preserving the integrity of my fitness schedule," she told me.
When she returned to the doctor's office in 2011 for a physical, the doctor was stunned. Novak was a rare bird: a compliant patient.
"I don't understand what happened. What did you do?" her doctor asked.
"I started eating right and exercising. You told me I had to," Novak replied.
"And you listened? My patients never listen to me!"
In July 2013, Novak started her blog, which she describes as the story of her journey toward heart health and learning to love fitness.
A Rather Rude Shock
In October 2014, Novak had a funny pain in her side. She thought it was just a strained muscle due to exercise, but it persisted. She had it checked out.
The pain was unrelated, but routine scans found a suspicious area in her thyroid. Novak was diagnosed with Stage III papillary thyroid cancer.
The most common form of thyroid cancer, papillary thyroid cancer accounts for 80 percent of thyroid cancer cases. Most patients, like Novak, are asymptomatic. In some cases, symptoms may be present as a persistent sore throat, hoarse voice or difficulty breathing.
Risk factors include radiation exposure and family history, but most people who are diagnosed have had neither of these. Women are diagnosed with thyroid cancer about three times more than men for unclear reasons, according to the American Cancer Society. Most cases occur in people under 50, and people aged 30-50 are at the highest risk.
Papillary thyroid cancer is staged differently depending on whether or not the patient is younger than 45 years of age, or is 45 years of age or older. At 46, Novak was assessed for the following criteria:
- The tumor is larger than 4 centimeters and only in the thyroid, or the tumor is any size and cancer has spread to tissues just outside the thyroid, but not to lymph nodes; or
- The tumor is any size, and cancer may have spread to tissues just outside the thyroid, and has spread to lymph nodes near the trachea or the larynx (voice box).
Novak's cancer was only 2 centimeters, but had spread to her larynx, categorizing her cancer as stage III via the latter criteria.
"I must say the cancer diagnosis really came as rather a rude shock," Novak told me.
"It's not that I thought I was any more or less deserving of cancer than anyone else, I was just incredulous. Like, cancer really? After I had worked so hard to get healthy and get active and lost weight and kept it off for four years, I was like WHAT?"
How a Single Woman Copes with Cancer
Novak is a graduate of Sarah Lawrence College with an MSW from Catholic University of America. She is a licensed independent clinical social worker (LICSW) working full-time for a non-profit serving the elderly and disabled in Washington, D.C.
Her life's work is taking care of the vulnerable, making sure they can stay in their homes. Now suddenly she was vulnerable herself. I asked her if it was lonely having cancer as a single woman.
"I have had a tremendous outpouring of support from friends and coworkers, even Facebook friends that I have never met. Care packages began to arrive in the mail almost daily. Numerous people offered to grocery shop or bring me anything I needed," Novak said.
Novak was flooded with phone calls, emails, texts and messages. People brought meals and helped her clean her apartment. Her yoga teacher met with her several times for tea and one friend started a GoFundMe campaign to help her meet her insurance deductible and unexpected expenses.
A radical change in diet and commitment to exercise developed an unwavering discipline in Novak — discipline that helped her face her thyroid cancer diagnosis and treatment. She practiced the visualization she learned in yoga during the needle biopsy on her neck.
"Practicing breathing and meditation techniques I learned in class helped me through tests, procedures and long nights awake due to side effects from treatment. I visualized myself surrounded by my yoga and Pilates community and felt comfort and peace, often when medication offered no solace," Novak said.
A Low-Iodine Diet
The regularity of Novak's life helped her keep up with her numerous medical appointments and helped her adapt to the required low-iodine diet.
Treatment for thyroid cancer often involves radioactive iodine (RAI) three to six weeks after surgery. The thyroid absorbs iodine, and when treated with RAI, any remaining thyroid cancer cells and any thyroid cells the surgeon was unable to remove are eliminated.
For RAI to be most effective, the patient needs to restrict intake of food containing naturally occurring iodine. Novak told me, "I ate fruits veggies and unsalted nuts, some meat. Potatoes were allowed but not the skin. I ate mostly baked potatoes."
Iodine can be found naturally in a variety of foods, but most often it is in iodized salts and other salts, breads and dairy products. The consumption of iodine helps produce more the hormone thyroxine for the thyroid gland.
At one point, in order to prepare her body for the radioactive iodine, Novak had to stop a course of thyroid medication that had been prescribed earlier in her treatment. The doctor warned her that ceasing the med would make her hypothyroid and likely cause weight gain, puffiness and depression.
"I actually cried when he told me this," Novak told me. "I had worked so hard to lose weight and now I was going to gain by not doing anything?"
So Novak took control. Too fatigued to exercise, she recommitted to the low-iodine diet prescribed earlier in her treatment. When she weighed in three weeks later, she was afraid to look at the scale. No need. She had lost seven pounds.
Having been used to exercising six days a week, there were days during treatment when Novak despaired. She was so weak and nauseated that she could hardly get out of bed and her spirits sank.
"What I did to help was imagine myself back in my fitness classes. I kept in touch with my friends asking them for details about what happened in class. Then I would imagine myself healthy and well and doing those exercises even if only in my mind," Novak said.
Looking Forward
Today, Novak is a strong, active, healthy woman already planning to run her second 5K, this time as a cancer survivor. Her prognosis is good. The five-year survival rate for Stage III papillary thyroid cancer is 93 percent. You can follow her progress here.
Five years ago, Novak was sedentary, obese and addicted to junk food, with lab results forecasting an impending heart attack. Today, a peek at her Facebook page shows more photos of dinners with friends and cute fitness outfits — actually being used for fitness — than anyone else I know.
Novak is much more than a woman who has overcome obesity and thyroid cancer. She is a woman driven by fitness, living a disciplined life rich in friendship. If only we all were so empowered to improve our health and wellness.
Sources:
Papillary Thyroid Carcinoma. medscape.com. Retrieved February 22, 2015. medscape.com http://emedicine.medscape.com/article/282276-overview
Thyroid cancer survival by type and stage. cancer.org. Retrieved February 22, 2015. http://www.cancer.org/cancer/thyroidcancer/detailedguide/thyroid-cancer-survival-rates
Thyroid Cancer Types, Stages and Treatment Overview. thyca.org. Retrieved February 26, 2015. http://www.thyca.org/about/types/#o453
Papillary Thyroid Cancer. ColumbiaThyroidCenter.org. Retrieved February 26, 2015. http://columbiathyroidcenter.org/papillary_thyroid_cancer.html
Papillary Thyroid Cancer Risk Factors. endocrineweb.com.Retrieved February 26, 2015. http://www.endocrineweb.com/conditions/thyroid-cancer/papillary-thyroid-cancer-risk-factors
A Low Iodine Diet. MSKCC.org. Retrieved February 26, 2015. http://www.mskcc.org/cancer-care/patient-education/resources/low-iodine-diet
Radioactive Iodine. thyca.org. Retrieved February 26, 2014. http://www.thyca.org/pap-fol/rai
Reviewed March 4, 2015 by Michele Blacksberg RN Edited by Jody Smith