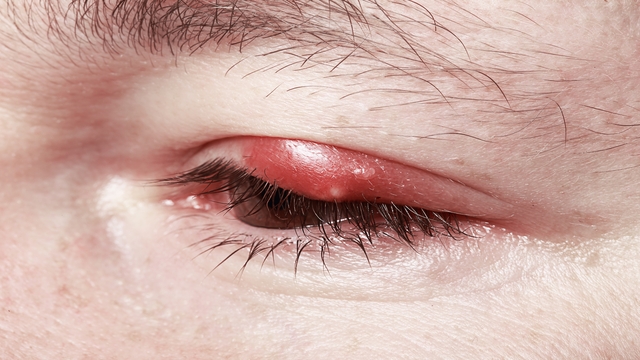 IRYNA HRAMAVATAYA/PhotoSpin
A stye is an acute infection of the secretory glands of the eyelids, which usually results from blocked glands within the eyelid. When a gland is blocked, the oil produced by the gland occasionally backs up and protrudes through the wall of the gland, forming a lump that can be red, swollen and painful.
Bacteria can infect the blocked gland, causing inflammation, pain, and redness of the eye and even redness of the surrounding eyelid and cheek tissue.
The lump resulting from the stye can point either externally (outward) or internally (inward). Some of the most common factors that contribute to the blockage of glands include:
(1) improper or incomplete removal of eye makeup
(2) use of outdated or infected cosmetics
(3) poor eyelid hygiene
(4) inflammatory diseases of the eyelid (e.g., rosacea)
(5) stress
(6) hormonal changes, leading to excessive oily discharge from the glands, which can increase the likelihood of developing an infection
In addition to the swollen and painful lump, other symptoms include:
(1) sensitivity to light
(2) tearing of the eye
(3) tenderness of the eyelid
(4) if the stye gets large enough, vision can be impaired.
Oftentimes, a visible whitish or yellowish spot that looks much like a large pimple can be seen on the lump. Usually, one obvious area of swelling is apparent on one lid. But, sometimes styes can appear on one or both eyelids simultaneously. The infection usually goes away when the pus is drained from the stye.
You can treat a stye by applying a warm compress to the area for approximately 10 minutes four times per day. Squeezing the stye can cause other problems and complications. Therefore, let the stye drain on its own. Some large styes may necessitate a doctor lancing the stye to drain the infection.
Be sure to call your physician if you experience any of the following:
(1) problems with your vision
(2) crusting or scaling of the eyelid
(3) the entire eyelid is red
(4) the eye itself is red
(5) the eyelid bump bleeds
(6) a stye soon returns after being successfully treated
(7) a blister on your eyelid
Sources:
Stye Overview. Web. Emedicinehealth.com. Accessed 7 Oct. 2011
http://www.emedicinehealth.com/sty/article_em.htm#Stye%20Overview
Stye Causes. Web. Emedicinehealth.com. Accessed 7 Oct. 2011
http://www.emedicinehealth.com/sty/page2_em.htm#Stye%20Causes
Eyelid bump. Web. Ncbi.nlm.nih.gov. Accessed 7 October 2011
http://www.ncbi.nlm.nih.gov/pubmedhealth/PMH0002004/
Reviewed October 17, 2011
by Michele Blacksberg RN
Edited by Malu Banuelos
Tags: