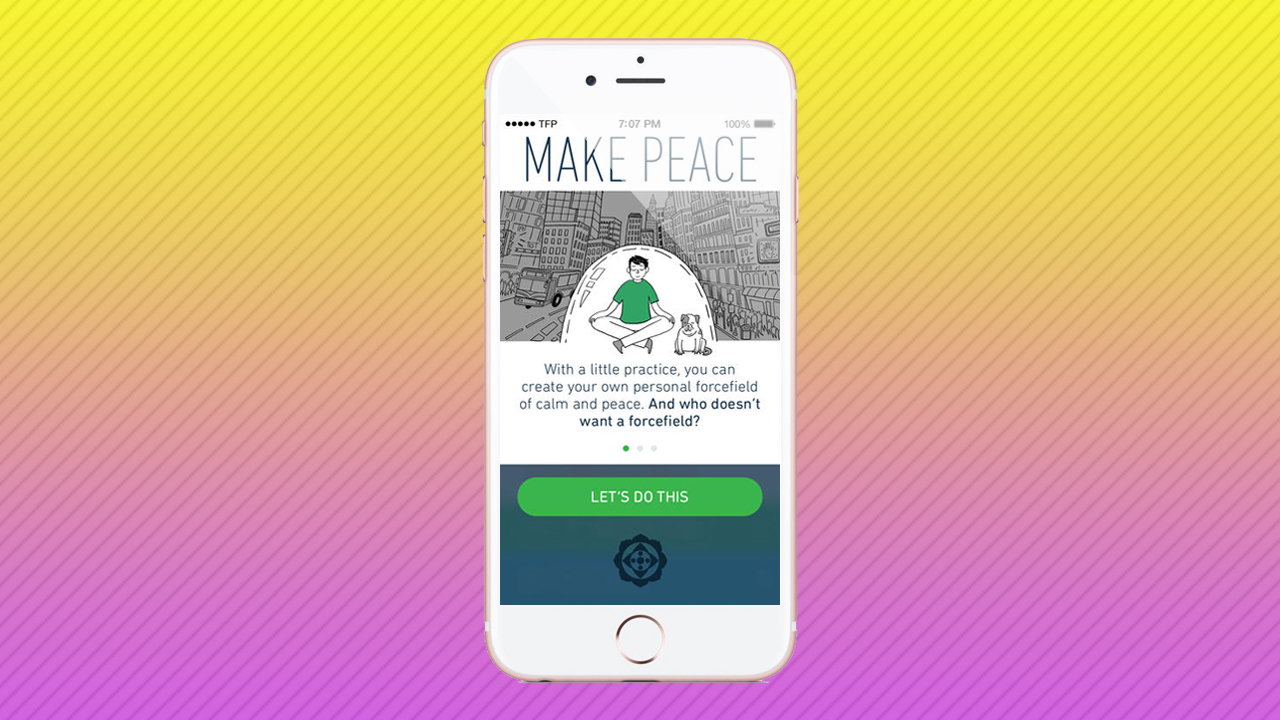 Graphic by Aydali Campa
We are all prone to stress, and left unmanaged it can take a serious toll on our health. It is necessary to set aside time for ourselves to ease our minds and bodies. Fortunately, stress relief and relaxation are right at our fingertips. The app store offers some seriously great applications that can help manage stress and soothe anxiety. Here are ten free apps you should know about when it comes to melting the stress away.
A new trend in the world of relaxation are coloring books. With the Adult Coloring Book app, ease your mind and engage yourself in some peaceful color therapy. The app offers a ton of designs to pick and choose from. You can even share your creation on your favorite social media outlets!
Relax and reduce stress with this simple meditation app. Calm offers guided programs and sessions as well as unguided sessions. This app not only helps you meditate, but also can aid you in falling asleep faster with a variety of soothing sounds. This app is free, but if you find yourself truly reaping the benefits of mediation you can purchase a subscription for a month or a year.
Self-help for Anxiety Management (SAM)
Learn how to manage your anxiety with SAM. This app allows you to share how you're feeling and then it will offer appropriate calming methods. Users will not only learn about anxiety, but will also engage in the practice of self-help.
This app is basically emotional support at your fingertips. This one in particular really intrigued me so I decided to download the free application myself and give it a shot. Almost immediately, I was connected with a listener who seemed to truly care about how I was feeling. If you are ever feeling alone and just need someone to lend a listening ear, I wholeheartedly recommend this app.
Build compassion and become more mindful with this easy to use application. Let the app know how you're feeling or what's on your mind and it will recommend guided medications. This app lets you connect with your emotions and thoughts to find a necessary peace within ourselves.
Headspace: Meditation Techniques
If you're finding difficulty to find time in the day to just focus on your own wellbeing, this is the app you must give a try. Headspace helps you learn the path to meditation in a mere ten minutes. The benefits of mediation are immense and we all deserve to feel at peace with our bodies and minds.
This app works to combat stress, anxiety and depression. These three factors are caused by a cycle of never ending thoughts which in turn cause physical feelings and actions. Pacifica aims to diminish this cycle by offering holistic tools to help you learn to manage stress, anxiety and depression at your own comfortable pace. This is an app that promises real progress.
This simple but effective app shares many insightful quotes on the topics of stress and anxiety. Reading through them when you're feeling overwhelmed will ultimately help you overcome your worries and inspire you to live with a happier outlook on life.
This app says what we truly all need every now and then; take a break! Indulge into deep relaxation and stress relief with voice-guided meditations. This app overs two options which are Work Break Relaxation (7 min.) and Stress Relief Meditation (13 min.). You can listen to these guided audios with or without relaxing music or nature sounds. If you're just looking for some peaceful listening, enjoy the music and nature sounds alone without meditation.
Deep Relax - Your Best Companion for Sleep
You had a stressful day or maybe you're anxious of the stresses that await you the next morning and you're finding it difficult to fall asleep. This app provides a ton of relaxing sounds to choose from, and it even lets you mix your own melodies. This app comes with multiple alarms so you can fall asleep knowing you will have soothing music to awake you the next day.
Source
App Store
Editing Note: This article did not filter through the normal EmpowHER editing and fact checking process. It was checked for spelling and grammar.
Read more in Being HER