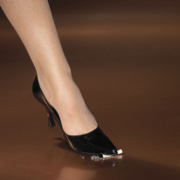 Photo: Getty Images
Nicotine is one of the most addictive substances and millions of people are hooked. Many of them don't want to be. They understand smoking is not good for your health and every puff brings you closer to the grave.
That's the unvarnished truth, but quitting is SO HARD. Studies show most smokers who want to quit have to try 10-20 times to be successful.
It's easy to beat yourself up if you have tried and then it didn't work out. (I refuse to call it "failure.") You are trying to break a very ingrained habit.
But the experts say you must keep trying and it can work out. Now there are more tools than ever to help -- quit line counselors, medications, gum, patches, hypnosis, support groups, and your own willpower.
Recently I interviewed Dr. Shari Meyerson, a Chicago chest surgeon at Northwestern Memorial Hospital. She treats lung cancer which is just one of the diseases related to smoking.
I asked her what advice she had for smokers so they don't become her patient. You can hear the whole interview at http://www.patientpower.info/program/why-quit-smoking/
The bottom line is -- set a quit date, talk with your doctor about resources that can help, use them all. Find a passion that can distract you and add to your health, like daily walks with a friend, joining a gym and committing to going, or starting a new hobby. Replace smoking with something positive and reward yourself for your progress.
Now, in the New Year, this can be your year to quit. Your health will be better for it and the people who care about you will thank you.
Will it be hard? Yes. Will it be worth it? YES! Good luck and have confidence this is the time that quitting will stick.
About the author: Andrew Schorr is a medical journalist, cancer survivor and founder of Patient Power, a one-of-a-kind company bringing in-depth information to patients with cancer and chronic illness. Audio and video programs, plus transcripts, help patients make informed decisions to support their health in partnership with their medical team.
Patient Power is at www.PatientPower.info and on Facebook, YouTube and Twitter. Schorr is also the author of "The Web Savvy Patient: An Insider's Guide to Navigating the Internet When Facing Medical Crisis" found at www.websavvypatient.com/
Resource:
Interview, Shari L. Meyerson, MD, Thoracic Surgeon, Northwestern Memorial Hospital, Chicago, Recorded on 11/8/2011, On Patient Power at http://www.patientpower.info/program/why-quit-smoking
Reviewed January 5, 2012
by Michele Blacksberg RN
Edited by Jody Smith