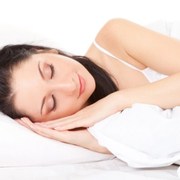 Hemera/Thinkstock
Sleep is an important part of our daily lives and necessary for good health, but are you getting enough sleep at night?
Chris Freytag, a health and fitness expert, blogger, author and motivational speaker, discussed with EmpowHER the importance of getting a good night's sleep.
"Sleep is when we rejuvenate and repair our bodies. From a physical health standpoint, we hear all the time that we should eat healthy, which is important, and exercise, which is also very important. But that third component of physical health that people sometimes take for granted is sleep, recharging your own human battery."
But even though sleep is a crucial part of our physical health, Freytag noted that for many of us, we are not getting enough sleep or the quality of sleep to function optimally.
"Sleep is really important and I think what happens for many of us is it's not as high a priority as it probably should be, and we're lacking sleep and we're not getting quality sleep."
Women tend to have a more difficult time than men getting a good night's sleep. Hormonal changes, which occur during menopause, pregnancy and the menstrual cycle, may disrupt sleep, according to the U.S Department of Health and Human Services Office on Women's Health.
Certain health conditions that affect women more often than men, such as fibromyalgia and depression, can contribute to sleep disturbances. Freytag pointed out that the busy lifestyles that women have can also affect their sleep.
"From my own perspective being a middle-aged woman, and I work with lots of women, I think that so many of us have very full lives—we're working full time, we might have families or people that we're responsible for taking care of, we have lots of tasks and things that we're doing, and it's really hard to shut it off at night."
As a result, we may turn to less-than-healthy practices that can affect our overall health.
"When you're body is tired and you haven't rejuvenated through sleep, how are you going to find energy? Through a thing we call calories. So people reach for food choices that aren't so great, and it's kind of like a snowball effect. So we really have to prioritize getting in that good night's sleep so you can feel fully charged."
Besides resulting in increased caloric intake, a lack of good sleep can affect your concentration and your energy levels.
Freytag also discussed Beautyrest's online analysis of the cities in the United States that are in the most need of a recharge. The team at Beautyrest looked at 5.6 million tweets, as well Google searches and social media behaviors.
They compiled a list of 30 cities that most need some rest and relaxation, with Las Vegas, Nevada at the top of this list. But the list was not solely comprised of the big cities.
"Surprisingly, there were some very small cities mixed in with larger cities. So I think what it speaks to is the fact that 73 percent of us Americans are not getting enough sleep. That's a high percentage."
So what can you do to get that good night's sleep? Freytag made several suggestions for women who need more sleep or better quality sleep.
"Creating that really good sleep environment, prioritizing and getting enough sleep. I know that for myself I have to draw the line in the sand and say it's time for me to go to sleep. And it's moving all the electronics out of the bedroom and creating that perfect sleep environment."
You can watch the full interview with Chris Freytag here at EmpowHER to find out more about the Beautyrest survey, their Recharge Sleep System, and Freytag's suggestions for getting that sleep you need.
References
Interview with Chris Freytag. Phone/Video. 12 June 2012.
U.S. Department of Health and Human Services Office on Women's Health. Insomnia. Web. 13 June 2012
http://www.womenshealth.gov/publications/our-publications/fact-sheet/insomnia.cfm
MedlinePlus Medical Encyclopedia. Sleeping Difficulty. Web. 13 June 2012
http://www.nlm.nih.gov/medlineplus/ency/article/003210.htm
Beautyrest. Beautyrest Finds 20 U.S. Cities Most in Need of a Recharge. Web. 13 June 2012
http://www.beautyrest.com/about/article/120
Reviewed June 13, 2012
by Michele Blacksberg RN
Edited by Jody Smith
Tags: