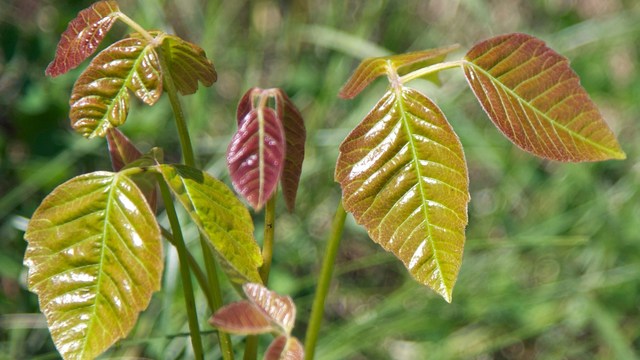 David Schliepp/PhotoSpin
Summer is a wonderful time to be out gardening and hiking. That is, unless you find yourself wrist- or knee-deep in a patch of poison ivy. It is not the leaves themselves that cause that horrible rash and itch but an oil on the leaves called uroshiol that adheres to your skin. Uroshiol is also on the stems, roots and berries.
The first step in preventing an exposure to poison ivy is knowing what it looks like so you can avoid it.
You may remember the saying "Leaves of three, let them be". Poison ivy is green and appears as three leaves on a stem. The leaves take on a shiny look from the uroshiol oil as summer progresses. Then they turns reddish-yellow in late summer and fall.
Here is a photo: http://upload.wikimedia.org/wikipedia/commons/7/71/Toxicodendron_radican...
Poison Oak is poison ivy's West Coast evil sister and causes an equally bad rash and itch. The leaves are still in groups of three, though sometimes it's groups of five, and there may be small whitish berries present. It can also grow like a vine.
Here is a photo: http://scitoys.com/botany/poison_oak_4_28_97_birdfarm.jpg
And our story would not be complete without some discussion of poison sumac, which contains the same oil as poison ivy and poison oak. There is a single leaf on the end of on a poison sumac stem with rows of paired leaves below it.
Here is a photo: http://0.tqn.com/d/landscaping/1/0/j/C/poison_sumac_leaf.jpg
Sometimes, despite your best efforts to avoid exposure to one of these shrubs, you do find you've had contact.
What should you do if you have been exposed?
The key is getting that tenacious oil off of your skin. This includes keeping any clothes that may have oil on them or tools you have been using away to prevent recontamination.
If you are fortunate enough to be near your home, or a place you can shower, or where there is running water, you have a good chance of washing the oil off.
You must wash the oil off your skin so the water runs away from your face. Because the oil is so adherent, you should use soap that is lathered up (some people use dish soap) to help lift the oil off of your skin.
Use copious amounts of water and let the water rinse all the soap away. If you are someplace where you do not have soap, use a lot of water to rinse. Wash with soap as soon as you can.
Next, wash your clothes to avoid re-exposing yourself to any oil that may be on them.
Put on disposable gloves to wash any tools you were using and to scrub your shoes.
What should you do if you still break out with a rash?
There are two products that are pretty popular to try and remove the uroshiol oil you missed that is now causing your rash. Use them as soon as you see the eruption of blisters and redness.
I have used Zanfel with good success. Zanfel is a scrub that will remove any remaining uroshiol on your skin and helps reduce the itch and the rash.
A close friend swears by a similar product called Technu.
Remaining itchy areas can be soothed with a variety of products. Try topical 1 percent cortisone, calamine lotion or oatmeal baths. Do not use topical antihistamine sprays due to the possibility of an allergic reaction, though you can try an oral dose to relieve itching.
Some people swear by a technique where you run very hot water on the affected area then run very cold water after to achieve hours of relief. Just don't try this on a child.
Do go to see a doctor or go to the emergency room if the rash is on your face. This is particularly important if you have swelling near your eyes, swelling on your lips, difficulty breathing or swallowing or have a rash over most of your body and nothing is relieving the itch.
Do plan to enjoy your summer, just be careful out there.
Sources:
Steering Clear of Poison Ivy By JANE E. BRODY . JUNE 16, 2014. New York Times.com. Retrieved Jun 28, 2014.
http://well.blogs.nytimes.com/2014/06/16/steering-clear-of-poison-ivy/?s...
Poison ivy: Tips for treating and preventing. American Academy of Dermatology. AAD.org. Retrieved Jun 28, 2014.
http://www.aad.org/dermatology-a-to-z/diseases-and-treatments/m---p/pois...
Michele is an R.N. freelance writer with a special interest in woman's healthcare and quality of care issues. Other articles by Michele are at http://contributor.yahoo.com/user/499625/michele_blacksberg.html
Edited by Jody Smith