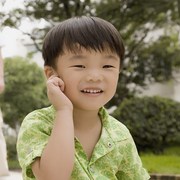 PS Productions/Photospin
The ability to create artificial ears using a special 3-D printer has become an innovation of our time. Cornell bioengineers and Weill Cornell physicians, working together, have successfully produced an artificial ear using an injectable mold created by a 3-D printer from the scan of a child's ear.
This research could enable significant advancements in the field of reconstructive surgery.
"A bioengineered ear replacement like this would help individuals who have lost part or all of their external ear in an accident or from cancer," said co-lead author Dr. Jason Spector, director of the Laboratory for Bioregenerative Medicine and Surgery and associate professor of plastic surgery at Weill Cornell in New York City. This was reported in an article on Sciencedaily.com.
In addition, children who are born with ear deformities such as microtia, a congenital deformity, would benefit. These children have normal inner ears but are missing the external ear, which captures and magnifies sound.
Currently, artificial ears are made using a patient's rib or materials similar to Styrofoam. The process can be painful and the results are not very satisfactory.
In the study, the new artificial ears were made by first scanning a panoramic photo of a child's ear to create a 3-D image. A 3-D printer produced a 3-D mold from the image. Researchers injected animal derived collagen gel into the mold along with 250 million cartilage cells from the ears of cows.
The collagen provided a scaffold for the cartilage cells to grow. The cells were left for several days to develop in the cell culture.
"Altogether, the team estimated it took about a week to produce an ear," reported Medcity News.
After the ear is taken out of the culture, it can be implanted, co-lead author Lawrence Bonassar, associate professor of biomedical engineering reported to Sciencedaily.com.
Spector and Bonassar have been collaborators in the attempt to grow bioengineered human replacement parts since 2007. They have focused on replacement structures that are made out of cartilage such as the nose, joints, trachea and spine since cartilage does not need to be nourished with a blood supply like other parts of the body.
They expect that ear transplants could become a reality in as little as three years after clinical trials can be completed. These clinical trials will be performed on animals first, and then on humans.
The researchers feel that ear transplants in children would have the best likelihood of success if done when a child is five or six years old. At that age, the ear is 80 percent the size of an adult ear.
Spector added that using human cells from the patient receiving the transplant would help reduce rejection.
The study was published online Feb. 20, 2013 in PLOS ONE.
Sources:
Researchers grow human-like ears using 3-D printer and cartilage cells. Med City News. Web March 3, 2013.
http://medcitynews.com/2013/02/researchers-grow-human-like-ears-using-3-...
Using 3-D printing and injectable molds, bioengineered ears look and act like the real thing. ScienceDaily, 20 Feb. 2013. Web. 3 Mar. 2013.
http://www.sciencedaily.com/releases/2013/02/130220184728.htm
Cornell University. Bioengineers print ears that look and act like the real thing. Chronical Online. 20 Feb. 2013. Web. 3 Mar. 2013.
http://www.news.cornell.edu/stories/Feb13/earPrint.html
Michele is an R.N. freelance writer with a special interest in woman's healthcare and quality of care issues. Other articles by Michele are at www.helium.com/users/487540/show_articles
Edited by Jody Smith