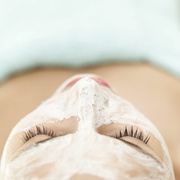 Stockbyte/Thinkstock
My eyes are heavy and I can feel myself almost drifting off to sleep. The lights are dim inside a room that is filled with smells of aromatherapy and relaxation. I am lying down comfortably wrapped in a strapless robe under heated sheets.
Quiet classical music plays overhead as I feel all the muscles in my body releasing tension and melting into the cushioned table.
It is a rare Saturday afternoon. I am just beginning the wonderful treat of a facial.
I have been seeing the same aesthetician for many years. She is simply the best. Her knowledge about skin and skin products is unsurpassed. Her technique is effective and gentle.
The warm steam, the fresh-smelling scrubs, the neck and arm massage as the products do their magic on my face, are heavenly. Not only is it a full hour of stress relief and relaxation, I know that I will always leave there with my face feeling fresh, clean and renewed.
Facials are just one thing that I love to do for my skin.
Everyone loves clear, beautiful skin. But what do you do to get it?
Pregnancies, different medications, and monthly menstrual cycles may all trigger hormones that can affect your skin. I have even heard some women complain that they feel their face breaks out more now that they are adults than when they were teenagers.
Aside from spoiling myself at the spa now and then, here is what I like to do to take care of my skin.
I drink water. Lots of it. It all started many years ago as an attempt to drop a few pounds.
I began replacing the juice and Diet Coke that I would drink during the day with water to assist in weight loss. Not only did I lose weight but my skin looked fantastic. People were commenting on it.
I took note and made the water a permanent change. As I would find out later, drinking lots of water would continue to be essential as I moved to Arizona.
Clean your skin. Not one night ever goes by that I sleep in make-up. In fact, I usually wash my face long before it is time for bed, especially after working out or getting home after a hot summer day.
I love products but once I find something that I like and seems to be a good fit for my skin, I am very brand-loyal.
I do admit that I am a sucker for trying new products and I especially love "trial" or "travel" kits that offer small sizes of their products. Occasionally, I will find something that I love so much that I add it to my collection but as a general rule, I stick with my favorite brands.
I use products that smell clean and leave my skin feeling fresh. And I use eye cream to protect that delicate skin. Every day, morning and night. Have been for years.
Use sunscreen. Gone are the days that I used to crave the glow of a tanned beauty.
I wear a daily moisturizer and make-up that contain a SPF. In addition, I always carry sunscreen. (Just one of the many things that tend to always be present in the handbag of a Mom.)
If I am outside, at the park, at the zoo, or on the soccer field, I apply sunscreen concentrating especially on my face. I really don't care about the tan, pass the 45 SPF, please.
Know your skin so you can know what to do to keeping it looking its best.
Edited by Jody Smith
Tags: