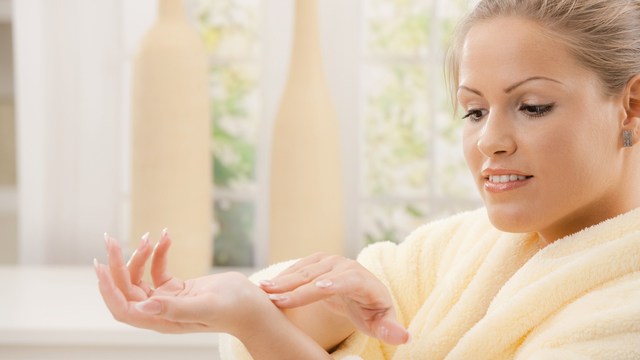 MonkeyBusiness Images/PhotoSpin
Winter is still going strong despite the fact that it's already March. Continued cold weather means more dryness, cracking and irritation to our skin.
The problem isn't just that the weather is cold but because it's cold, we turn on the heat. Heat makes the skin dry regardless of whether it is from house heaters or hot showers.
Read the tips below to help get moisture back into your skin.
1) Humidify Your Space
Even if your home heater has a whole house humidifier, set up smaller humidifiers in your bedrooms. This will help deliver more moisture directly to you and your skin for the eight hours you are there sleeping.
2) Take Showers that are Less Hot
Take showers in warm, not hot, water and shorten the time you spend to only about 10 minutes. According to WebMD, intense heat of a hot shower or bath can break down the lipid barriers in the skin, which can lead to a loss of moisture.
3) Talk to a Dermatologist or Esthetician
There are many inexpensive products you can purchase from the drugstore that may do just as good a job as more expensive ones. Dermatologist can decide if you need any prescription products if you have excessively dry skin or are having rash.
Estheticians cannot prescribe medications but are very knowledgeable about a variety of skin products and how they might help you.
4) Moisturize Your Skin while it is Damp
Different types of moisturizers are needed to combat winter dryness, and absorb best if applied when your skin is damp, right after bathing. Look for an oil-based ointment or moisturizer instead of water-based ones for use in the winter.
According to GR Health, ointments by definition are 80 percent oil and 20 percent water, so offer the most protection to the skin.
Creams are the next best type of moisturizers to try because they are thicker, which is why they come in a jar. Lotions are the next choice. They are lighter and work well on areas that have hair. Many lotions labeled as "night creams" are oil-based.
In selecting a product for the face, be careful to choose one that will not clog your pores. WebMD suggests options such as avocado oil, mineral oil, primrose oil and almond oil.
5) Try a Honey and Sugar to Scrub for Stubborn Spots
To treat rough areas on the elbows and knees, a mixture of honey and sugar may scrub away those bumps. "Studies show that humectant honey reduces inflammation, and sugar (applied topically) increases circulation in skin," Miami dermatologist Jeremy Green, MD told Health.com. 

6) Don't Forget the Sunscreen on your Skin and Lips
We hear this all the time. Even in winter, those UV rays can still get through to our skin. It is easiest if you use a moisturizer with a sunscreen already in it with at an SPF of at least 15. Don't forget to carry a lip balm with sunscreen as well.
7) Avoid the Blow Dryer
This is a hard one to give up. A hair dryer blows hot air directly on our skin and scalp. This can dry out and irritate both. Try letting your hair dry naturally indoors during the winter, or severely limit your time using one.
8) Dress in Breathable Layers
Wearing soft, non-irritating clothing against your skin with warmer layers on top helps prevent overheating. You can remove those extra layers as needed to prevent sweating, which can trigger scratching and itching. Make sure to remove wet gloves and socks promptly to prevent chaffing and cracking of skin irritated from the dampness.
9) Don't Make Yourself Crazy Drinking Water in Winter
Surprisingly, Kenneth Bielinski, MD, a dermatologist in Oak Lawn, Ill., told WebMD that it is a misconception that drinking water rehydrates our skin. Water is good to drink for our health in general but it does not do much to replenish the skin. Better to spend extra time focusing on the other tips above.
Sources:
10 Winter Skin Care Tips. WebMD.com. Web Mar. 2, 2014.
http://www.webmd.com/beauty/ten-winter-skin-care-tips
Winter Skincare Tips, From Head to Toe. Health.com. Web Mar. 2, 2014.
http://www.health.com/health/gallery/0,,20653372,00.html
Women: 10 Ways to Protect Your Skin in Winter by Dr. Loretta Davis. Georgia Regents Medical Center Dermatology Clinic. GRhealth.org. Web Mar. 2, 2014.
http://www.grhealth.org/e-news/ContentPage.aspx?nd=2678
ARE CREAMS AND LOTIONS DIFFERENT?. Discovery Fit & Health. Web Mar. 2, 2014.
http://health.howstuffworks.com/skin-care/moisturizing/products/creams-a...
Michele is an R.N. freelance writer with a special interest in woman's healthcare and quality of care issues. Other articles by Michele are at www.helium.com/users/487540/show_articles
Edited by Jody Smith