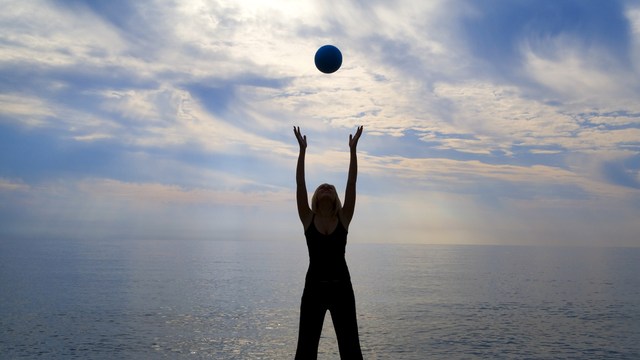 MonkeyBusiness Images/PhotoSpin
Summer can be both inviting and stifling. While the sun beckons us outside, the heat and humidity also have us running for our air-conditioned shelters.
Exercising outside in the summer can be not only challenging for our bodies, but also one of our most important organs, our skin. Keeping skin healthy, especially in the sun, is particularly important when exercising throughout the summer.
We first want to be mindful of the sun's strongest times and plan our workouts for early mornings or evenings. However, do not be fooled by cloud cover, said Joe Decker of Beta.Active.com. "Sunscreen is a must. I use SPF 45 just to be safe. It's important to protect your skin. You can get burned and suffer sun damage to your skin even on cloudy days."
The site also suggests that you wear loose, light-colored clothing. "The lighter color will help reflect heat, and cotton material will help the evaporation of sweat."
Many of us kick up our workouts on vacation, especially if it is a beach vacation. According to an article featuring dermatologists on Allure.com, you may want to build up your protective coating.
"Before a beach vacation, I wear sunscreen on my body every night. I do it for two to three weeks ahead so the sunscreen builds up in my stratum corneum, and it makes my skin less likely to burn."
The article written by Mary Rose Almasi featured Jeannette Graf, assistant clinical professor of dermatology at Mount Sinai Medical Center in New York City. Almasi also featured other experts who advocate wearing a heavier water-resistant sunscreen containing zinc oxide.
Pimples on our backs, arms, etc. are another skin side effect from working out in the summer. Macrene Alexiades-Armenakas, assistant clinical professor of dermatology at Yale School of Medicine in New Haven, Connecticut told Allure that we should look for a sunscreen that specifically says oil-free.
If you do break out, experts featured on Prevention.com said, "Wash with a body cleanser that contains benzoyl peroxide or salicylic acid, ingredients that unblock pores and dry up excess oil. (Don't scrub; it may inflame skin.)"
If you love to swim in the ocean or pool, be careful of the effects nature and chemicals such as chlorine can have on your skin. "After swimming, rinse with fresh water to remove any salt or chlorine buildup, which can further dry out and irritate skin."
If you get a sunburn, head indoors for awhile to work out. Prevention.com featured expert Fran Cook-Bolden, MD, of Columbia University offers this advice. "Sunburned skin temporarily loses its protective barrier, so it's more susceptible to subsequent burns."
Sources:
8 Tips for Exercising in Summer Heat – Joe Decker – BetaActive.com." ACTIVE. Web July 23 2013.
http://beta.active.com/running/articles/8-tips-for-exercising-in-summer-heat
"Dermatologists Summer Skin Secrets – Allure.com." Allure Magazine. Web July 23 2013.
http://www.allure.com/skin-care/2011/dermatologists-summer-skin-secrets#slide=5
http://www.allure.com/skin-care/2011/dermatologists-summer-skin-secrets#slide=1
http://www.allure.com/skin-care/2011/dermatologists-summer-skin-secrets#slide=2
"Summer Skin Care Tips – Prevention.com." Prevention.com. Web July 23 2013.
http://www.prevention.com/beauty/beauty/summer-skin-care-tips#ixzz2ZubgTdCy
Reviewed July 24, 2013
by Michele Blacksberg RN
Edited by Jody Smith