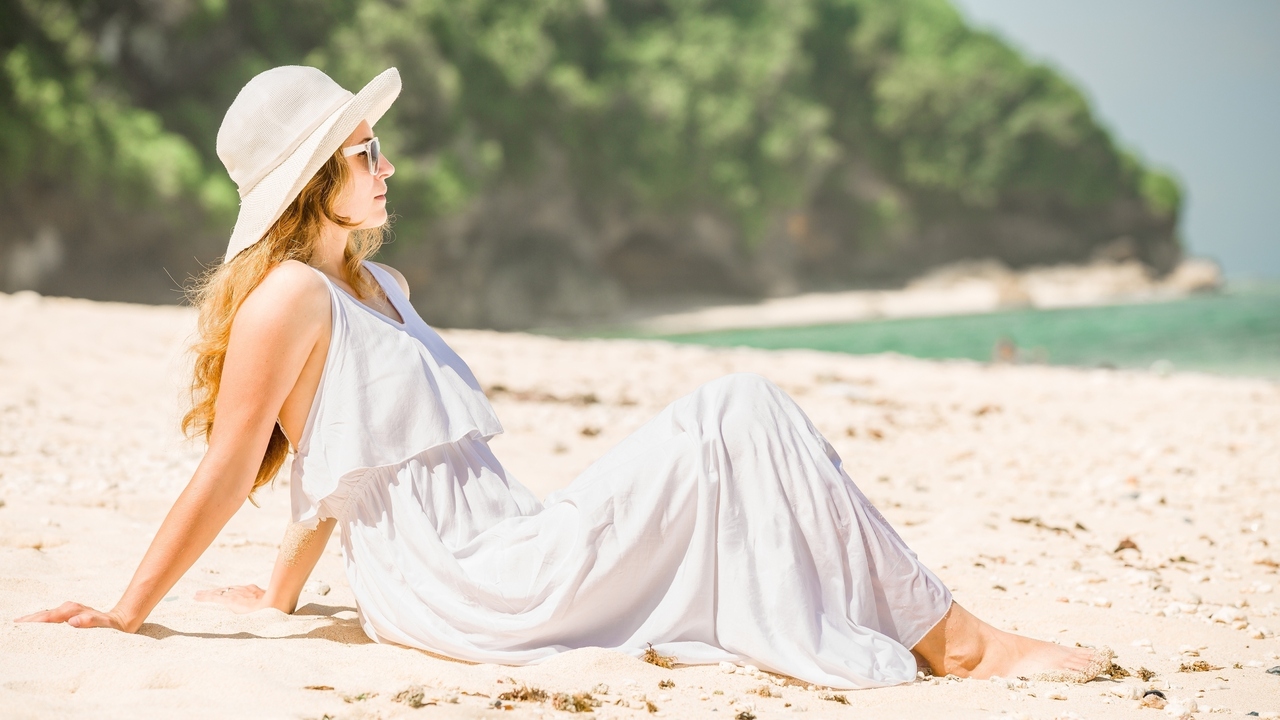 Evgeny Pimenov/PhotoSpin
We know we need to slather sunscreen on our bodies to prevent sunburn but what about our scalps? Surprisingly, a full head of hair may not be very effective at blocking out much of the sun's damaging rays to our heads.
A study from Australia found that hair only offers a protection factor of five to 17. It is usually recommended that we use sunscreen with an SPF of 30, and reapply it every two hours.
The researchers stated that a significant number of melanomas occur on the scalp. They reported that one study showed that 13 percent of melanomas occur on a person's scalp."1
With that in mind, what are the best ways to provide protection from the sun on the top of our head?
1) Wear wide brim hats
Hats that have brims that extend three inches around, that shade the face, head, ears and neck, are recommended by the Skin Cancer Foundation as shields from two of the most common forms of skin cancer: basal and squamous cell carcinoma.
The Skin Cancer Foundation also says that "people with melanoma (the deadliest skin cancer) of the head and neck are almost twice as likely to die from the disease as patients with melanomas on other parts of the body."2
2) Rub sunscreen on hairless scalps
Men who have hairless domes and a baby's with wispy coverage on their crowns should be protected by sunscreen with a minimum SPF of 30 rubbed into their scalps directly. They should all wear hats whenever possible.
The Environmental Working Group has listings of the sunscreen products they have reviewed. You can select one they recommend from this link.
3) Try sunscreen products for hair
Using sunscreen spray for hair is not likely to help protect your scalp from the beating sun, says the Beauty Brains. You would have to apply a thick layer like you do with sunscreen on your skin.
If your hair is thinning, there is even less protection for your scalp and back of your neck.
The best plan is for everyone to wear a hat but if you cannot wear a hat, you can consider spraying on hair sunscreen. Make sure you spray the roots so your scalp gets some of the sunscreen protection, not just your hair.
4) Swimming scalp protection
There appear to be a couple of products intended to protect your scalp from those burning rays while swimming, but they are expensive, and it is unclear as to how well they work.
The obvious solution is to wear some type of swim cap if you will be out swimming for long periods of time since it is not practical to wear a hat. Swim caps have made big advances since those days where they were only made out of thick rubber.
<![CDATA[]]>Today's swim caps<![CDATA[]]> come in a variety of colors and designs and are made out of several different types of materials. Some can also cover your ears, giving you additional protection from the sun.
5) Ask your hair stylist to inspect your scalp during hair cuts
You can make an appointment with a dermatologist to do a skin checkup, but since many of us see our hair stylist every couple of months, that person can get a close up view of your scalp while doing your hair.
Next time you go for a trim, ask your hair professional to take a look at your scalp to see if they observe anything out of the ordinary.
Hair stylists have been known to find suspicious lesions on people's scalps so in a way, they may be your first line health protection practitioner when it comes to the health of your scalp.
Sources:
1) Hair gives little sun protection for scalp. ABC Science. Retrieved July 18, 2015.
http://www.abc.net.au/science/articles/2008/09/12/2362010.htm
2) Clothing: Our First Line of Defense. Retrieved July 18, 2015.
http://www.skincancer.org/prevention/sun-protection/clothing/clothing-ou...
3) Does Your Hair Need Sunscreen? EmpowHer. Retrieved July 18, 2015.
https://www.empowher.com/print/10475443
4) EWG Guide to Sunscreens 2015. Retrieved July 18, 2015.
http://www.ewg.org/2015sunscreen
Michele is an R.N. freelance writer with a special interest in woman's healthcare and quality of care issues.
Edited by Jody Smith