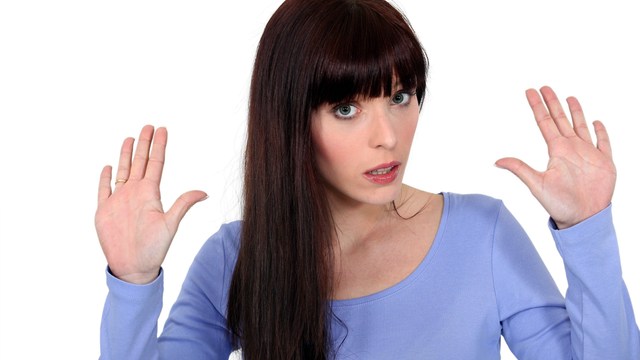 Auremar/PhotoSpin
Vulvar and vaginal atrophy (VVA) is a chronic medical condition experienced by many postmenopausal women. Symptoms include dyspareunia (painful intercourse), vaginal dryness, and trouble with urination and bladder infections. It may affect sexual activities, relationships and daily activities.
Ricki Pollycove, M.D., M.S., a San Francisco-based OB/GYN specializing in menopause management, said VVA is a result of the biological changes of low estrogen in menopause.
"I tell my patients if the same thing happened to your mouth, you'd no longer be able to have a soup spoon go through your mouth; you could only accommodate a teaspoon and then eventually a quarter teaspoon. That's how much the vagina actually shrinks in both diameter and length."
It's estimated as many as one in three women diagnosed with VVA due to menopause experiences painful intercourse, wrote AARP.com. With all this discomfort and pain, you'd think women would be avidly seeking relief. Not so.
According to a recent survey in the Journal of Sexual Medicine, few women even attributed these VVA symptoms to menopause or hormonal changes. More alarming is that only 56 percent of participants ever discussed VVA symptoms with their doctor.
Some attribute this to women feeling embarrassed about discussing the subject or that it's not worth mentioning because they believe treatment is unavailable.
In an effort to help women open up about this problem, Academy Award-nominated actress Virginia Madsen signed on as the spokesperson for the campaign "Finding the Words," which is aimed at encouraging women to discuss and find treatment for this condition, stated FoxNews.com.
Madsen herself is nearing menopause. "As such, I wanted to be as informed as I could. A lot of women are just suffering in silence, not talking to their doctors about it, thinking it's something they've done or they're not doing. This is not okay because this is a real medical issue that can be treated."
Dr. Pollycove added, "Women are putting up with this misery and basically just shutting down their sexuality."
A lot of women simply don't know how to start the conversation, said Madsen.
"Findingthewords.com is an excellence resource to help women find their own words to bring up this topic with their doctors. By speaking candidly with their doctors, women can learn about the different treatment options and get relief."
Treatment includes over-the-counter products or prescription low-estrogen aids that can relieve symptoms and keep VVA from getting worse, wrote AARP.com.
Another option is ospemifene, which was recently approved by the Food and Drug Administration (FDA). It works like estrogen in the uterine lining, reported Findingthewords.com.
"Ospemifene is exciting is because all prior FDA-approved treatments for vaginal dryness and dyspareunia due to menopause are estrogen-based," said Dr. Pollycove. "Ospemifene isn't. This new treatment is the first non-estrogen, oral treatment that's FDA-approved for dyspareunia."
"It's time for women to speak up about painful intercourse so they can get relief. There is help out there," urged Madsen.
Sources:
Pollycove, M.D., M.S., Ricki. Phone interview. 16 July 2013.
Madsen, Virginia. Phone interview. 16 July 2013.
Constantine, MD, Ginger D, Jay J Constantine, MD, Michele Giliberti, and Shelli Graham, PhD. "Ospemifene Significantly Improves Female Sexual Dysfunction As Measured By the Female Sexual Function Index (FSFI): Results of a Randomized Placebo Controlled Trial -- Constantine et al. 34 (3): SUN-LB-10 -- Endocrine Reviews." Endocrine Reviews. N.p., n.d. Web. 16 July 2013.
http://edrv.endojournals.org/cgi/content/meeting_abstract/34/03_MeetingAbstracts/SUN-LB-10?sid=f4c1f6f7-65fc-4a00-b5b8-e7e53c0f23f5
"Finding The Words | About Moderate to Severe Painful Intercourse Due to Menopause." Finding The Words | Home. N.p., n.d. Web. 16 July 2013.
http://www.findingthewords.com/about-painful-intercourse-due-menopause
"Painful intercourse (dyspareunia) - MayoClinic.com." Mayo Clinic. N.p., n.d. Web. 16 July 2013.
http://www.mayoclinic.com/health/painful-intercourse/DS01044
Sagon, Candy. "Painful Sex, Vaginal Pain Caused By Menopause - AARP." AARP - Health, Travel Deals, Baby Boomers, Election News, Over 50, Online Games, Retirement Plan. N.p., n.d. Web. 16 July 2013.
http://www.aarp.org/health/healthy-living/info-06-2013/painful-sex-caused-by-menopause.html
"Virginia Madsen helps women talk about painful sex | Fox News." Fox News - Breaking News Updates | Latest News Headlines | Photos & News Videos. N.p., n.d. Web. 18 July 2013.
http://www.foxnews.com/health/2013/07/05/virginia-madsen-helps-women-talk-about-painful-sex
"Vulvar and Vaginal Atrophy in Postmenopausal Women: Findings from the REVIVE (Real Women's Views of Treatment Options for Menopausal Vaginal Changes) Survey - Kingsberg - 2013 - The Journal of Sexual Medicine - Wiley Online Library." Wiley Online Library. N.p., n.d. Web. 16 July 2013.
http://onlinelibrary.wiley.com/doi/10.1111/jsm.12190/abstract
Reviewed July 19, 2013
by Michele Blacksberg RN
Edited by Jody Smith