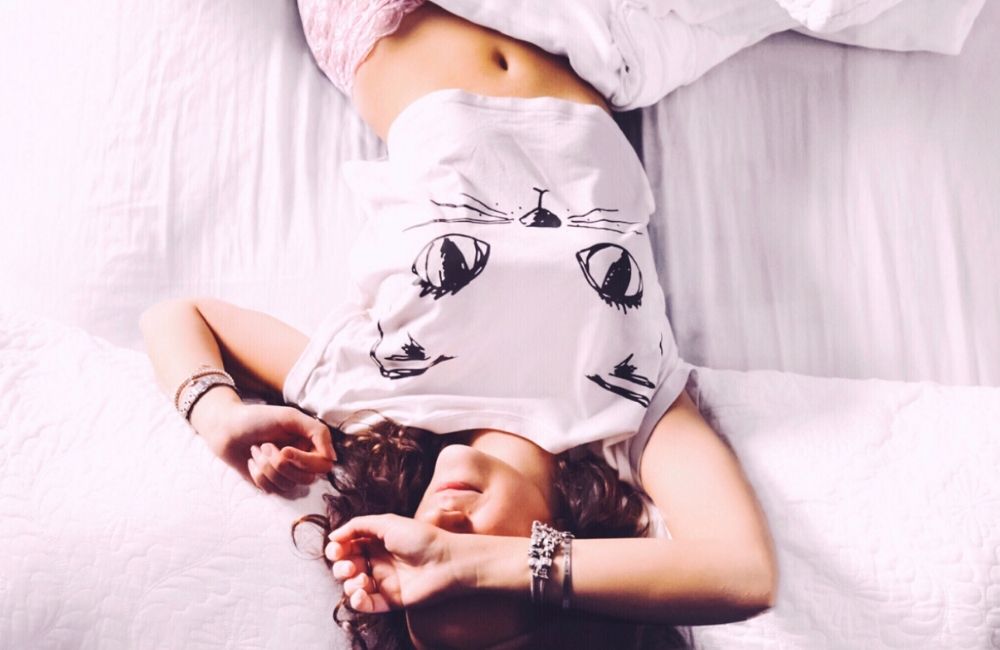 What we want you to know, is that you are not alone. This is an issue that MANY young women struggle with. It can be caused by physical, psychological, and relationship issues.
Low sex drive in young women is more common than most of us think. Many people associate low libido with women going through menopause or after menopause. However, more young women are reporting low sex drive as early as their mid-twenties.
A low sex drive can have a huge impact on your romantic relationships, mental health, and quality of life. We are tricked into thinking this isn't normal because of movies, TV shows, culture, friends, and other factors.
A lot of young women don't want to admit they have lost their sexual desire. They are at the prime of their life & at a time when their fertility is sometimes high. It can be stressful and upsetting to struggle with this issue.
It's a deeper issue than just not being attracted to your partner or loving someone.
So what causes it?
1. Mental health problems
Anxiety, depression, and any other mental health issue.
2. Medications
A lot of anti-depressants are known to cause a decreased sex drive. Birth control can also be the culprit of this issue.
3. Stress
You could be stressed from work, finances, school, relationship strains, children, or any other life stressors.
4. Poor body image & lack of self-esteem
5. Rape or abuse
Anything that has been a negative sexual experience in the past
6. Poor connection with a sexual partner
Maybe there has been a lack of communication or your schedules don't line up anymore. The two of you may find it hard to create a work-life balance.
7. Trust problems in a relationship
It might be time to see a therapist to work through some of these issues and improve your sex life.
8. Chronic pain issues
If you are already suffering from pain, sex is probably the last thing you want to do. Depending on the condition, sex can even be painful.
9. Pregnancy & breastfeeding
We have all heard about how wild hormones can be during this time. Caring for a newborn can also be stressful and tiring. Give yourself a pass during this time and realize it will probably pass.
Remember, you are not alone. Here is what some of the young women. In an EmpowHER discussion titled, "I am a 21-year-old female with no sex drive…help!" are saying…
"Sometimes I just force myself and even then it only lasts a few minutes. I have no connection to my downstairs and when I do I don't control it, and I dry up in a matter of minutes." -Anonymous 23
"I don't think about sex and find it hard to get aroused. It's putting a real strain on my relationship." -Anonymous 27
"Between work and my son I can get tired and stressed. I used to be a very sexual person with my boyfriend but for the last year I have had no desire for sex." -Anonymous 21
"I don't want to kiss my boyfriend because I know he will lead it into sex." Anonymous, 21
"I'm 23, married for 2 years, and have zero sex drive with my husband and have zero interest in pleasing myself alone." -Anonymous, 23
"Don't get me wrong, we have our ups and downs, but I really love him and I want him to know that I love him. It's really stressful on our relationship. I feel like I should force myself to have sex with him, even if I don't want to because it's my fault that I'm like this." -Hailey, 21
"We are having problems well really it's me. I have no sex drive and all he wants is to have sex and I don't want anything to do with it. I mean, I dread having sex." -Anonymous, 21
So how can you increase your libido and take your sex life back?!
1. See a sex therapist or counselor
They might be able to help you through psychological problems. They can also give couples' exercises that increase intimacy between you and your partner. This could also improve communication skills and any trust issues between you and your partner.
2. Schedule an appointment with your doctor
They might be able to test your hormone levels or make any changes to prescribed medications. They could also prescribe a different medication that is more targeted for dealing with low libido.
3. Spice up your sex life
This could seem daunting depending on how serious the issue is but sometimes finding a new position can get your excitement going.
4. Schedule a time for intimacy
Make an "appointment" with your partner. Schedule out a specific time that you will dedicate to being intimate. Sometimes people get busy with life and feel they don't have time. Put aside all to-do lists and worries. Focus on the moment. Easier said than done but it will take practice!
5. Get to know your body
Listen to your body and feel different sensations in different parts of your body. Find out the places that feel pleasurable.
6. Exercise
This is a good way to boost your libido naturally. It can make you feel more confident and feel better overall. This helps with physical and mental issues.
If you have any tips or advice that has helped you regain your sex drive, leave it in the comment section and help the other women in the EmpowHER community!