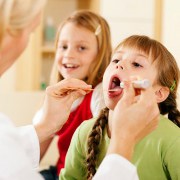 Photo: Getty Images
A case of strep throat, followed by an unusual red rash, may be a disease known as scarlet fever or scarlatina. According to the National Institute of Allergy and Infectious Diseases (NIAID), the red rash is caused by the same bacteria that cause strep throat.
Typically seen in children under the age of 18, the scarlet fever red rash develops on the sides of the chest and across the abdomen, sometimes covering the entire body.
The NIAID describes the scarlet fever rash as rough to the touch, and full of small, red dots that lose color or turn white when touched. Other symptoms of scarlet fever include a bright, pink-red tongue and flushed face, or red lines in the folds of skin.
In severe cases, a child may experience nausea, vomiting and fever. The NIAID also reports that sometimes the skin on the tips of fingers and toes may start to peel after the rash disappears and your child is feeling better.
The Centers for Disease Control and Prevention (CDC) says that scarlet fever is spread when an infected person coughs or sneezes and the germs enter another person's mouth, nose or eyes. According to the CDC, a child with a sore throat should be encouraged to frequently wash hands and should be discouraged from sharing eating or drinking utensils.
To determine if your child has scarlet fever, your doctor will swab for a throat culture to check for group A strep infection. If the diagnosis is scarlet fever, the health care provider will prescribe an antibiotic. The CDC recommends keeping your child at home until he or she has taken the antibiotics for at least 24 hours.
The CDC also has several suggestions to help ease your child's symptoms. Since your child may be experiencing a fever, offer plenty of liquids. Soup and other warm liquids, or the opposite, like popsicles or milkshakes can help sooth a sore throat, as well as restore fluid loss during a fever. A child needs plenty of rest and may sleep better with a cool mist humidifier in his or her room.
Sources:
National Institute of Allergy and Infectious Diseases. Scarlet Fever Symptoms. Web. 21, Nov. 2011.
http://www.niaid.nih.gov/topics/scarletFever/Pages/Default.aspx
Centers for Disease Control and Prevention. Scarlet Fever, General Information. Web. 21, Nov. 2011.
http://www.cdc.gov/ncidod/dbmd/diseaseinfo/scarletfever_g.htm
Reviewed November 22, 2011
by Michele Blacksberg RN
Edited by Jody Smith