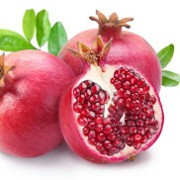 Photo: Getty Images
Pomegranates are sweet, tasty fruits that have been valued since ancient times for their health benefits as well as their flavor. Julie Jurenka provided a review. The Ayurvedic and Unami systems of traditional medicine practiced in the Middle East and India used pomegranate for a variety of conditions, Jurenka reported.
"The current explosion of interest in pomegranate as a medicinal and nutritional product is evidences by a MedLine search from 2000 to the present," she added.
Lab studies point to antioxidant, anti-inflammatory, and anti-carcinogenic properties. The constituents believed to be most beneficial include ellagic acid, ellagitannins, punicic acid, anthocyanidins, anthocyanins, flavonoids, flavonols and flavones.
Dr. Alexandra Balbir-Gurman and colleagues in Israel performed a pilot clinical study of pomegranate extract to treat rheumatoid arthritis. "A variety of mechanisms are involved in the pathogenesis of RA [rheumatoid arthritis], many of which lead to increased generation of oxidants," Balbir-Gurman explained.
Previous research indicates that a combination of antioxidants, as found in a diet rich in fruits and vegetables, is more effective than individual antioxidants for improving health of rheumatoid arthritis patients.
Balbir-Gurman used pomegranate extract produced from the entire fruit, with polyphenol components similar to the constituents of 200 ml of juice. Six postmenopausal women with rheumatoid arthritis completed the study.
All had active disease and inadequate response to disease-modifying anti-rheumatic drugs (DMARDs). They received stable doses of DMARDs and corticosteroids for at least one month before beginning the study, and continued on the same medication regimen while they took the pomegranate extract.
Participants took pomegranate extract twice a day for 12 weeks. They experienced significant decreases in composite Disease Activity Index scores and tender joint counts, along with improved blood test results.
Balbir-Gurman concluded, "In this pilot open study, we demonstrated clinically beneficial effects of POMx [pomegranate extract] supplementation for patients with active RA [rheumatoid arthritis]." No side effects were reported.
Pomegranate recipes are widely available on the Internet. The fresh fruit requires some effort to separate the juicy arils from the fibrous pericarp, but the work is well rewarded. I found a YouTube video demonstrating useful techniques.
References:
Jurenka J, "Therapeutic applications of pomegranate (Punica granatum L.): A review", Alternative Medicine Review 2008; 13(2): 128-44.
http://www.ncbi.nlm.nih.gov/pubmed/18590349
Balbir-Gurman A et al, "Consumption of pomegranate decreases serum oxidative stress and reduces disease activity in patients with active rheumatoid arthritis: a pilot study", Isr Med Assoc J 2011; 13: 474-9. http://www.ncbi.nlm.nih.gov/pubmed/21910371
How to Cut Open a Pomegranate. YouTube. Web. Dec. 14, 2011.
http://www.youtube.com/watch?v=sHyqoeB0Wlk
Reviewed December 20, 2011
by Michele Blacksberg RN
Edited by Jody Smith