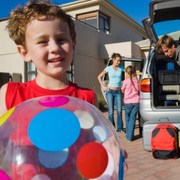 Jupiterimages/Pixland/Thinkstock
As the freedom of summer comes to an end and kids prepare for "back to school", many families will take advantage of these last few weeks to get away on a family trip.
When you are a parent, you know that it doesn't matter if you are staying for three nights or a week, packing for a family is always a chore.
I have this discussion frequently with other moms. Packing for the trip is hard. You need to consider the weather, environment where you are staying, and the method by which you will be getting there.
Many airlines now charge passengers for every bag they check and some even charge you for your carry-on. If you are driving, every inch of space in the car is valuable.
I carefully plan every item that I am taking. I have to be organized when going on a trip. Remembering and organizing what we need to bring for three children, in addition to myself, is not an easy task.
It is rare that I pack for a trip when it is just my husband and me.
I miss laying out each special outfit that I can't wait to wear. I miss packing the swimsuits and cover-ups, casual skirts and tank tops that I can wear down to breakfast for mornings that we eat on patios that overlook the waves of the ocean.
Yeah, I miss that.
Some friends tell me that I put too much pressure into packing. I just feel better knowing that I have what I need. It is true that if an item is forgotten, most things can be purchased on the trip but I like to come prepared.
Here are some tips for packing that may just help to save your sanity.
I choose full outfits for my kids, complete with underwear and socks for each day that we will be gone. Then I pack two or three extra full outfits and have at least one in a carry-on bag or easily accessible in the car.
(I can't tell you how many times this has saved me after someone spilled his drink all over his clothes.)
I pack them in the suitcase, in outfits, not by clothing type. This makes it very easy to grab each day.
Each person also has their own area of the suitcase. Keep it separate. Don't forget items like swimsuits, pajamas, and layering light weight clothing.
Take things that you don't want to waste time buying just in case you need them. I always bring children's Advil or Tylenol. If your child develops a fever or needs pain relief, you don't want to be running off to the store.
Items that you rarely use, like cooling gel in case of a sunburn, are worth the extra space. When I cleaned out my cabinets I found multiple bottles, one for every beach trip we took.
Always bring sunscreen so you don't have to waste time shopping for it or spend outrageous amounts of money buying it at a theme park.
Bring games. You will have to choose carefully so you are not taking up a ton of space but a few games can save you (and your kids) from boredom on down time.
Our family favorites are Uno, Left Center Right, and numerous card games. You can even buy a new deck of cards for your trip with a fun design and find various games if you search online.
Pack carefully to keep everyone happy and busy during travel time. Make sure that snacks, books, movies, etc., are easy to reach.
This will also be your easiest way to control healthy food options. No one wants to stop for fast food each time a child gets hungry.
These are just some of my suggestions. What are your favorite packing tips for travel?
Edited by Jody Smith