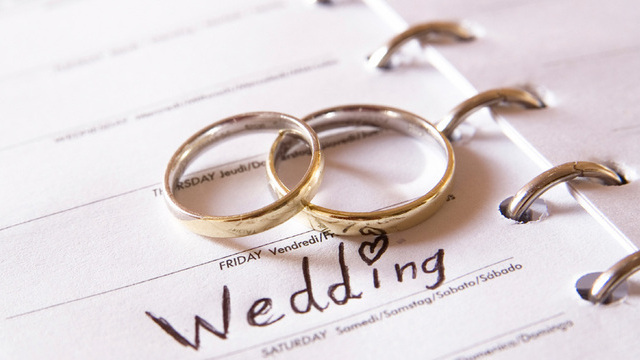 Via Wikimedia
Women dream about their wedding day from the time they are little girls. We want to have the perfect dress, flowers, venue, colors and ring, not to mention the perfect man waiting at the end of the aisle.
It's a typical stereotype. For a lot of women, their wedding day will be the biggest, most elaborate, and expensive day of their lives.
But when it comes to shelling out the big bucks for your big day, how much is too much?
The wedding industry is a 55 billion-dollar-a-year industry and couples are spending more on their weddings now than ever before.
According to a report that was done in 2013 from survey results which included 3,700 individuals, The Wedding Report found that the standard American couple spends anywhere from $18,900 to $31,500 with an overall average of $25,200.
You used to only need something old, something new, something borrowed, and something blue. But nowadays the list of wedding wants is growing.
The report includes the different items couples typically have and spend on for their big day, including:
Attire and accessories

Beauty and spa

Entertainment

Flowers and decorations

Gifts and favors

Invitations

Jewelry

Photography and video

Planner/consultant

Venue, catering and rentals
Of course that's only an average, couples can spend a great deal less or exponentially more.
Couples would do well to remember that prices add up fast. The venue, catering and rentals alone can eat up half of your budget before your even set foot in a bridal shop!
So in a day and age of growing budgets, higher expectations and higher costs, how can a couple cut costs on their wedding day?
Well, it may not be as glamorous or extravagant as the wedding for the couple getting married at the Plaza in June, but it can be done.
Location:
It was estimated by TheKnot.com that in 2014 one in four couples would have a destination wedding. They based their results on information collected from nearly 13,000 surveys by brides and grooms in the United States who were married in 2013. The most expensive place in the country to get married is Manhattan.
The best way to cut costs is to pick a location and venue that you can afford. You don't have to spend thousands to have a nice venue. If you want your guests to feel a romantic ambiance but don't have the means to rent an extravagant ballroom, have an outdoor wedding and create your own magic.
Dress:
There's no doubt the dress can cost a pretty penny, depending on the designer and how intricate a gown you want, dresses can cost tens of thousands of dollars. According to The Wedding Report, in 2013 the average amount spent on the bride's dress was $1,281.
Settling for a less extravagant gown will be friendlier to your wallet. Dress store chains sell beautiful gowns at a fraction of the cost. If you're not happy with a more basic gown add your own embellishments.
Guest List:
The Wedding Report also stated that the average number of weddings guests is 138, a pretty substantial guest list. When you add the cost of each person's meal, a large enough area to host everyone, and a favor for each guest, the cost begins to mount up. Couples spend on average anywhere from $161 to over $400 on their favors alone.
Keeping the guest list small and to only close friends and family can be effective in shaving off some of the excess expenditures.
Save the dates, Invitations, and RSVPs, Oh my!
The paper products you give your guests can easily run upwards of a thousand dollars. If you want the whole shebang the options are endless for the things you send out:
Ceremony programs

Engagement announcements

Save the dates

Invitations

RSVP card

Thank you cards

Guest Book
Don't forget, most of those require postage, and those are just the most common things couples send. You could also choose to get menus for the meal at the reception and place cards if you are having a sit-down dinner or seating chart.
It may seem tedious, but with a lot of time and a little elbow grease you can make your own. Going out and buying the supplies is cheaper than hiring someone else to make them for you.
If you want everything but know you can't extend your budget any further, utilize online sites that allow for virtual engagement announcements, save the dates, and RSVPs.
They may not be made out of organic paper with 24-karat gold edging, but it's the thought that counts when it comes to your guests. This is your day. You're not trying to impress them, you're trying to include them in the celebration of the love you've found.
Flowers and Decorations:
Flowers and décor are among the most sought after components to a wedding. You wouldn't think flowers would be so expensive but if you want boutonnieres for the men, bridesmaids' bouquets, corsages, flowers for the flower girl, centerpieces AND a bridal bouquet, you should chip out a few thousand from your budget.
A creative way to cut costs on flowers is to make your own. You can find tutorials on how to make beautiful flower bouquets out of paper and other crafting supplies. If that's a little too trendy, silk flowers can be a great alternative. They are cheaper, won't wilt and can be an artistic way to design your own arrangements.
The same goes for decorations. A quick Google search can give you ideas and inspiration. You'd be amazed what you can do with pieces of wood from the hardware store, or discounted mirrors from the craft store.
Sources:
Average Wedding Cost. Cost of Wedding. Retrieved Feb. 18,2015.
http://www.costofwedding.com

Wedding Services in the US: Market Research Report. IBIS. Retrieved Feb. 18,2015.
http://www.ibisworld.com/industry/default.aspx?indid=2008

The Knot.com 2013 Wedding Statistics. XO Group. Retrieved Feb. 18, 2015.
http://www.xogroupinc.com/press-releases-home/2014-press-releases/2014-03-27-real-weddings-study-average-cost-of-wedding.aspx
Reviewed February 23, 2015
by Michele Blacksberg RN
Edited by Jody Smith