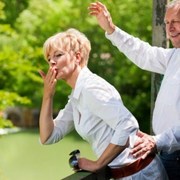 iStockphoto/Thinkstock
There are people in our lives that we rely on and believe will always be there for us. It is not always just family or close friends whose departure affect us.
Have you ever had a favorite doctor? Maybe it is your OB or your child's pediatrician.
I have had the same OB and pediatrician with all three pregnancies and deliveries. Our pediatrician has watched our boys grow for more than nine years.
Prior to having my third son, she told me during an appointment that she was leaving her current practice.
My jaw dropped. I was already pregnant with my third son.
I knew her. I trusted her. How could she leave? (Wow, that isn't selfish.)
Although she was not able to disclose specific information, I was able to find out that after a few months off, she was moving to a different practice.
My friend (whose children were also patients of hers) and I searched relentlessly for her new office. We were determined to find her.
One day my friend called with her new contact information and I have been with her new office ever since that day.
Do you have a favorite hairstylist? Someone that you have been going to for years?
Someone that knows the texture of your hair so well that you trust them completely to cut, color and style it the way that they want and you know that it always turns out great?
What would you do if you called for an appointment just to find out that he/she left that company? Finding a new hair stylist is like finding a perfect pair of jeans, time-consuming and seemingly impossible.
When you have longevity with someone, it is natural that you think that they will always be there.
I found out recently that one of my favorite instructors at the gym is leaving in just a few weeks. I have been taking her classes for nearly seven years.
I have been a regular at her Zumba and yoga classes for the last two years, taking them several times a week.
I rave about her classes. Her power yoga is the only class that I have ever been willing to get up at 4:30 a.m. to go to.
Her Zumba classes are so much fun that I pick going to the gym over shopping. I love her classes.
I am not the only one. She has almost a full room of people that show up several times a week to work out to her choreographed routines, set to heart pumping dance tunes. The others are fighting to get a floor spot just to try it.
Now she is leaving to pursue something new. I was shocked when she told me.
Happy for her and her new adventure, but sad for those of us left behind with the treadmills and water bottles.
How could this be?
I looked around the room at all her regulars. What will we do now?
Spin class? Kickboxing? Cancel our memberships?
Whatever it is, it won't be the same. We will miss you Natalie!
It is easy to take things for granted.
Edited by Jody Smith