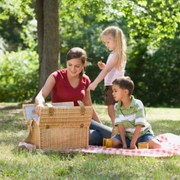 Jupiterimages/Comstock/Thinkstock
Each year, I look forward to summer when my kids are out of school. I love the lack of schedule and the freedom to do anything that we want.
I love that we can build Legos for hours or eat lunch in our pajamas. I love this for about three days until every room in my house is overflowing with toys and the boys are fighting with each other and complaining, "I'm bored."
In the past few years, I have come up with a pretty effective plan.
I gladly accept e-mail messages from friends informing me about camps, activities and businesses that offer "free" or reasonably priced summer fun. And I do a lot of my own research.
I look at local magazines and online to search for events that fall during the summer months. Next, I create a large calendar where I can fill in any classes, special events or play dates that we schedule.
I like to use a large dry erase board and write in the plans for the week. By marking it down or making a list of different options, you can pick and choose what you want to do.
I always check out the local park and recreation class schedules so my kids have the opportunity to try something new.
These types of classes are great because they are inexpensive and last only about eight weeks, plenty of time to know whether your kids would like to pursue it further. My boys have done camps in past and enjoyed that experience as well.
In Arizona, the heat is sweltering so it is essential for us to have cool indoor options or activities involving water.
I recommend checking out museums, libraries and other places that can be both fun and educational for kids. You may find that local places will offer special admission days or discounted prices for groups, so coordinate with your friends.
Most large movie chains will offer special summer movie showings. Water parks or splash pads can be a great way to stay cool and burn off some energy.
Don't forget to pack a picnic lunch so you don't have to leave when the kids get hungry.
During the summer, I continue to save gym days so I don't have to give up my favorite classes. Many gyms have programs that will allow your kids to play sports, rock climb or participate in fitness programs while you are working out.
I also try to keep a good balance of "at home" time and "outings." The less time that I spend driving during summer break, the happier I am.
While I love the freedom of having no set schedule, I do find that for my family, we operate best with a daily plan. My kids enjoy knowing what days we are getting together with friends or going out.
I also include a flexible daily schedule that breaks out meals, reading time and projects, game time, etc. This gives them a basic guide but allows them to help decide what they would like to do.
They take turns being in charge and picking the games we play and the projects we work on. Sometimes the projects are cooking projects, which allows them to read recipes, measure ingredients, and even work on fractions through measurements.
My kids actually work on "homework" all summer long, they just don't know it. Some days we will have a drawing project where we choose an item around the house to draw. After drawing it, we practice writing by describing it.
This works great for all ages because you can customize their level. Older kids can work on full sentences and youngest can try expanding their adjectives. Even the littlest children can participate and just focus on the artwork.
Don't forget to check out local libraries and book stores and sign your children up for summer reading programs. Whether you are reading with them or they are independently reading, this is a great way to keep them reading all summer long.
When staying at home, having a loose schedule helps with the flow of the day. This helps to cut down on the "I'm bored" comments. And we still have plenty of time to simply play, which makes it really sad for me when summer break comes to an end.
Edited by Jody Smith