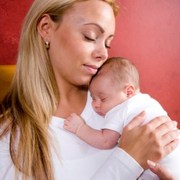 iStockphoto/Thinkstock
When we brought our first son home from the hospital, we thought he was adorable. Those tiny little features, soft baby coos and peaceful, sweet face.
That was while he slept. He was pretty content if I held him. However while he was awake he liked to eat and he would wail to let us know that he thought it was time. That seemed to be nearly every minute that he was awake.
I wasn't exactly sure how often he actually needed to eat. Breastfeeding was new and difficult for me. I didn't know how much he was getting or if it was enough for him. He seemed to want to eat all the time.
During the first few weeks, I didn't get a decent night's rest. I would retreat to my bed immediately after his dinner feeding in the hopes of getting just a few consecutive hours of sleep.
Even if it was 7:30 p.m., I knew it wouldn't be long before his cries would ring through the monitor, shooting me straight up in a sitting position in bed. I felt like the time-to-make-the-donuts guy as I walked like a zombie into his room to scoop him up and allow him to further irritate my raw nipples.
Since I could never keep track of what side I last fed him on, I got in the habit of keeping a hair band on my wrist to help me. Whatever side I fed him on, I put the band on that wrist.
We had cable when my first son was born. It was a time before DVRs and I rarely took the time to record any shows on my VCR.
After terrifying myself by falling asleep twice while rocking and feeding my son, I knew that I had to do something to keep myself awake, especially during those late-night feedings. Expanded cable channels didn't have a lot to offer between the hours of midnight and 5 a.m.
I only suffered through "The Fifth Wheel" once before realizing that anything was better than that. Dawson's Creek? I didn't watch it the first time around and I wasn't interested in it in syndication.
That was about the time that I became very educated with the paid programming shows. I didn't really even realize what I was watching. I became mesmerized with the information and the demonstrations.
My husband was surprised when packages started showing up at our door. He would look with confusion at the brown boxes at our front door as I would push past him and announce things like, "The Magic Bullet! You have GOT to see this thing!"
Yes, those marketers knew what they were doing, preying on sleep-deprived, breastfeeding mothers. If I watched those infomercials enough, I started to see the need for the glass ball that waters your plants automatically as they need it.
Oxy clean really seemed to remove every stain possible. I suddenly wanted a new vacuum shaped like a ball. Many products that are not really necessary look good at 3 a.m.
As my son grew, the feeding schedule became easier and I was grateful to give up the middle of the night "non-TV" watching.
I was even more grateful that by the time my other two sons were born, DVRs had entered the market and made my life easier. However, I still have and love my Magic Bullet.
Edited by Jessica Obert