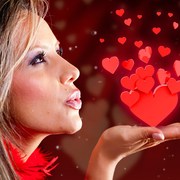 Andres Rodriguez/PhotoSpin
Kissing isn't just another way to show your affection. Kissing has been linked with lasting relationships.
Samuel H. Wood, M.A., M.D, Ph.D., M.B.A., a board-certified reproductive endocrinologist and world-renowned fertility and sexual medicine specialist, said the link between touch and levels of Oxytocin has been seen in many studies.
Oxytocin, a hormone produced in the brain, seems to be a critical hormone in the development of close relationships.
In a study conducted by the Department of Psychology and the Gonda Brain Sciences Center at Bar-Ilan University in Ramat-Gan, Israel, 163 young adults' hormone levels were observed. Of the 163 individuals, 120 of them were new couples (60 couples) and 43 were non-attached individuals.
The study showed couples' oxytocin levels were significantly higher than those who were not in relationships. It also showed couples who stayed together after a six-month period had higher levels of oxytocin in the early part of their relationship than couples who did not stay together.
Since the beginning of a relationship includes a higher amount of stimulation, touching and kissing may play an important role in keeping the hormone levels high.
Dr. Wood said that most oxytocin is released when couples who care about each other have sex. For men, oxytocin is released through intercourse but for women, having an orgasm is a critical step in order to release oxytocin.
But sex isn't the only way to release the hormone in a relationship. Dr. Wood said that events like the first kiss can make the hormone spike within your body. When you kiss, dopamine and oxytocin levels rise and you get a large boost of adrenaline.
In addition to this, your eyes dilate, your heart rate increases and you begin to sweat, all from the touch of a kiss. These changes to your body contribute to wanting to see that person again.
Dr. Wood suggests that couples keep oxytocin levels high by making sure to embrace each other, hold hands and interact with one another through touch.
But you can increase your oxytocin levels if you don't have that special someone. The hormone is also important between mother and child and animal relationships. It can also decrease anxiety, reduce depression levels, minimize stress, reduce blood pressure and heart rate.
Dr. Wood said that when an owner pets their dog, the oxytocin levels rise in both the dog and the owner.
But you don't need a dog or a physical embrace to affect the levels of oxytocin in your body. "Just imagining someone you care about hugging you can make your oxytocin levels rise" said Dr. Wood. The visualization itself can help you relax.
So make sure to take the time to pay attention to your oxytocin levels today! It will help your health and your relationship.
Sources:
Samuel H. Wood, M.A., M.D, Ph.D., M.B.A. Phone interview. 1 Feb. 2013.
What is Oxytocin? Psychology Today. PsychologyToday.com. Web. 10 Feb. 2013.
http://www.psychologytoday.com/basics/oxytocin
The love hormone oxytocin keeps men away from other women. Reproductive Sciences Center. Web. 12 Feb. 2013.
http://www.fertile.com/video-kusi-love-hormone.html
Schneiderman I, et al. Oxytocin during the initial stages of romantic attachment: relations to couples' interactive reciprocity. Psychoneuroendocrinology. 2012 Aug;37(8):1277-85. doi: 10.1016/j.psyneuen.2011.12.021. Epub 2012 Jan 26.
http://www.ncbi.nlm.nih.gov/pubmed/22281209
Reviewed February 14, 2013
by Michele Blacksberg RN
Edited by Jody Smith