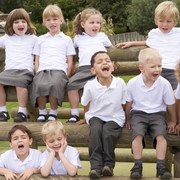 MonkeyBusiness Images/PhotoSpin
I am thankful every day for the opportunity to be a mother. Being a parent of three wonderful boys is re-teaching me the things that I forgot when I became an adult.
To laugh out loud when something is funny. To run without being late for something.
To sing to fill the world (or the car) with a voice instead of silence. To notice and admire simple things that are usually taken for granted.
Each time I take a walk or hike with my children, I have a new appreciation of my surroundings. Kids give you the gift of a fresh perspective.
When my oldest son was just beginning to talk, he was fascinated with the moon. We took him outside countless nights just to watch his sweet face stare up at it in awe.
I would snuggle his warm body as his chubby little fingers pointed towards the sky. Strange how I had grown accustomed to driving at night without even thinking about the moon.
It was my baby that opened my eyes to details of the world that I forgot were there. To this day, I notice the moon every night that I am out. It reminds me of my son.
Kids do speak a different language. It is filled with statements that sometimes make no sense or sometimes make all the sense. And kids are honest, brutally honest.
Last week, I branched out and bought a dress with a print. Something that I wouldn't normally choose but it was a current style in the stores.
I thought the fit was flattering and the look was a little different for me. I thought I liked it but decided to enlist three other opinions.
(Me)"How do you like my new dress?"
(Son one) "I don't like it. It makes you look like a zebra."
(Son two) Thumb down with tongue out and spitting noise.
(Son three) "Nice. I like zebras."
I couldn't get it back on the hanger and into the garment bag fast enough. Just like that, the dress went back. Zebra was not the look I was going for.
Do you feel inferior when your child has you a question and you realize that you don't know the answer? Then to add insult to injury, before you can think of something informative and clever to say, he adds, "If you don't know, then we can just google it."
This silences you again since that was the clever thing that you were going to say.
Kids say the funniest things and even when they are bordering on being naughty, it is often funny.
Living in a house with three boys, you can imagine how much time is devoted to laughing about things that are gross. Gas being one of the most popular topics.
Of course, I do not tolerate this type of conversation and they know it. They have figured out a way to still have their fun. They talk in code.
Sometimes, I hear all three of them laughing like crazy, then abruptly stop as I enter the room. I shoot a fierce glare towards them and ask suspiciously, "what's so funny."
They giggle in unison and one of them mutters, "Nothing ... hey, does anyone smell raspberries?" Again the trio roars with laughter.
With all its challenges and rewards, I love being a Mom.
Edited by Jody Smith