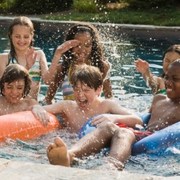 Jupiterimages/Comstock/Thinkstock
It's that time of the year again. The time of the year when the news segments are darkened with the sad reports of deaths of children caused by accidental drowning.
The summers are hot, the water is enticing and accidents happen.
Every summer, we enroll our boys in refresher swimming lessons. Without having a pool at home, they have little opportunity to practice their swimming, so my husband and I feel that it is important continue the lessons.
In the hot Arizona summers, there are plenty of swim parties and play dates.
My seven-year-old came home about a week ago with a party invitation. He ran to the car when he saw me, his backpack swinging behind him. He couldn't stop talking about the upcoming party.
I agreed that he could go but I would not drop him off. I would stay at the party.
The day of the party arrived and his excitement was at a high. He checked the clock nearly every 10 minutes. He couldn't stop smiling as I lathered him up with sunscreen.
My husband and I were nervous because he hadn't actually been swimming since last fall. My husband's request was that he get into the pool and swim across as I watched him, just to be safe.
The party was just beginning when we arrived. There was a huge rented blow-up water slide, in addition to the backyard pool and hot tub.
There were already about 15 kids at the party, swimming, sliding and having fun. I greeted the host and asked what the depth of the pool was. I found out it was five feet in the middle and three on the ends.
My son was ready to go. He dropped his towel on a chair and starting running for the pool.
"Wait!" I yelled out to him. I reminded him that he needed to get into the pool and let me see him swim.
"Oh, yeah, yeah!" He quickly agreed and catapulted himself into the pool.
His smiling face bobbed up and then changed to sheer panic. I realized he clearly couldn't reach the bottom.
I was almost frozen as I watched his head go down again. I leaned over the side of the pool but he was just beyond my reach.
I was able to blurt out, "Kick your legs and swim to me! You can do it. Relax." I saw his little eyes fixate on me and he went under again.
His arms were flailing and he was gasping for breath. I was just about to jump in, full clothes and shoes when a classmate of his that was in the pool, saw him struggling, swam to him and pulled him to my outstretched arm.
I couldn't thank that kid enough. My heart was pounding and head was throbbing. I pulled my son out of the water and hugged his soaking wet body.
There was a lump in my throat. My hands wouldn't stop shaking. As I asked if he was okay, he nodded his head and begged to run off to the water slide.
As he headed for the slide, I looked around. It was a very normal party. I was the only one that had panicked, maybe the only one that saw it happen.
The image of my son bobbing underwater continued to play over and over in my head. My damp clothes were a painful reminder that it only takes a couple of minutes for an accident to occur.
Soon, most of the kids had floating noodles and everyone appeared to be having a great time as they swam. But for the rest of the party, I nervously watched the pool.
Keep the fun times good and ALWAYS watch your kids around water. Please enroll your children in swim lessons. It can save a life.
Edited by Jody Smith