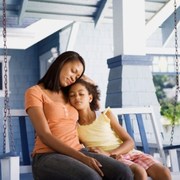 Brand X Pictures/Thinkstock
Food poisoning (infectious gastroenteritis) typically causes nausea, vomiting, and diarrhea. Usually these symptoms clear up in about a week, but some patients develop lifelong problems.
Maryn McKenna reported on a girl named Dana Dziadul who developed arthritis as a toddler.
Dziadul spent two weeks in the hospital with a salmonella infection from cantaloupe when she was three years old. Soon afterward, she developed pain in her knees and ankles that interfered with both sleep and school sports.
Reactive arthritis is the name most commonly used for arthritis following infection. Reiter's syndrome is an older name that is still in use. John M. Townes of the Oregon Health and Science University reported on the problem of reactive arthritis following gastrointestinal infections in the United States. The infection does not spread to the joints, but the inflammation does.
"Clearly, there are inflammatory changes that can occur in joints and other tissues following infection with enteric pathogens," Townes explained.
The Centers for Disease Control and Prevention (CDC) estimates that 48 million Americans per year get sick with foodborne illnesses. There are 31 known pathogens, including bacteria and viruses.
Salmonella, campylobacter, shigella, yersinia, and chlamydia are the species generally associated with reactive arthritis, according to Townes. The term "postinfectious arthritis" is often used for joint inflammation following other infections.
"ReA [reactive arthritis] is a concept, not a well-defined disease," Townes wrote. It is not yet clear how many arthritis patients developed their joint problems in reaction to foodborne infection.
Food poisoning is also known as traveler's diarrhea when it occurs in someone away from home. Military personnel are especially susceptible when they are deployed to areas at high risk.
Jennifer A. Curry of the Uniformed Services University of the Health Sciences, Bethesda, Maryland, and colleagues studied active duty U. S. military personnel. They found a significant association between reactive arthritis and infectious gastroenteritis, even though the military population is generally young and physically fit.
"This represents a significant burden on the military healthcare system and may be an important medical condition in returning veterans," she concluded.
References:
McKenna M, "Food Poisoning's Hidden Legacy", Scientific American 2012 April. Online version:
http://www.scientificamerican.com/article.cfm?id=food-poisonings-hidden-legacy
Centers for Disease Control and Prevention. CDC Estimates of Foodborne Illness in the United States. Web. March 31, 2012.
http://www.cdc.gov/foodborneburden/2011-foodborne-estimates.html
Townes JM, "Reactive arthritis after enteric infections in the United States: the problem of definition", Clin Infect Dis. 2010 Jan 15; 50(2): 247-54. http://www.ncbi.nlm.nih.gov/pubmed/20025528
Curry JA et al, "The epidemiology of infectious gastroenteritis related reactive arthritis in U. S. military personnel: a case-control study", BMC Infect Dis. 2010 Sep 13; 10: 266.
http://www.ncbi.nlm.nih.gov/pubmed/20836849
Reviewed June 4, 2012
by Michele Blacksberg RN
Edited by Jody Smith
Tags: