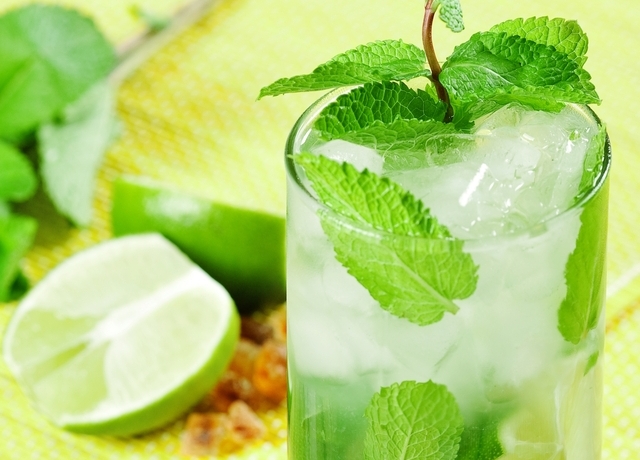 The Super Bowl is around the corner and people are going to plan accordingly.
Guest list
Snacks and food
TV and cable
Drinks
Well, you might want to rethink that last one because the only thing higher in calories than the food are the drinks ("adult" drinks that is).
Alcohol has one of the highest calorie contents when it comes to beverages. So if you and your friends like to have more than one drink, you might want to reconsider your beverage menu to avoid regret après Super Bowl.
Now a healthy alcoholic beverage is an oxymoron, but these five variations on cocktail favorites are skinnier versions for a skinnier you.
Margarita
PS Productions/PhotoSpin
Margaritas are arguably one of the highest-calorie alcoholic drinks, ranging up to 600 calories per serving. Alcohol is already heavy with calories, so adding in sweet and sour mix and sugar doesn't make it any better.
What people seem to forget is one of the key ingredients in sweet and sour mix can be replaced by its all-natural cousin, lime juice, immensely lowering the calorie content and sugars.
For the sweet tooth of the group this recipe variation here, suggests adding a splash of Grand Marnier, making the drink smooth and sweeter to the tune of only 160 calories.
Long-Island Iced Tea
Monkey Business Images/PhotoSpin
This potent drink is deadly for more than one reason.
It's strong, and it's high in sugar.Normally this drink has five different types of hard liquor: vodka, tequila, rum, gin and triple sec. On top of that a typical recipe adds sweet and sour mix and coke or something similar, meaning it may taste like tea but its nothing but sugar.
A simple way to make this heavy drink a little lighter is by simply swapping a few ingredients. The people over at Drinksmixer.com have come up with a recipe you can find here. Exchanging the sweet and sour mix for lemon juice and the regular cola for diet, drops the calorie content about 80 percent.
But if that still seems high to you, a knock-off way of making the drink is to take iced tea, sweeten it with lemonade, and then throw in a shot of vodka to give it a kick.
Gin and Tonic
Ruslano Linchuk/PhotoSpin
Many people think that gin and tonic is already one of the "healthier" alcoholic drinks out there. But just one shot (1 fluid ounce) of vodka is about 115 calories, and one 12-fluid ounce serving of tonic water has nearly 125 calories (almost the same as soda).
A skinny and simple alteration on this drink can be made just by switching to diet tonic water. Diet tonic has 0 calories, ringing in this lighter version at under 100 per serving.
A recipe on this "Slim Gin and Tonic" can be found here.
Mojito
Evgeny Karandaev/PhotoSpin
Mojitos are a fun and easy drink to make, allowing you to please the crowd (and show off your bartending skills). But this light, sweet, tangy, minty concoction doesn't have to be weighed down with sugar.
Mojitos can and should be made with all-natural ingredients. All you need is: white rum, lime juice, mint leaves, soda water, and sugar.
A breakdown of a skinny mojito can be found here.
Vodka Soda with Lemon or Lime
Steven Slater/PhotoSpin
This drink is about as good as it gets, the beverage itself is less than 100 calories (around 65), and there isn't any added sugar.
Where people make the mistake is by confusing soda water with tonic water. Tonic water has over 80 calories but looks virtually the same as soda water.
For those of you who didn't know there was a difference, there is. Even though those extra 80 calories don't seem like a lot, like anything else, it adds up. If it's just based on a preferred taste for tonic, opt for tonics zero calorie brother, diet.
A squeeze of lemon or lime can spice up this drink and add a little flavor.
For a fun twist on these drinks add a drop of food coloring to show your team spirit!
Remember as you partake in the Super Bowl festivities, moderation is key.
Sources:
9 Margaritas for Less Than 300 Calories. Health. Retrieved Jan. 28,2015.

Long Island Iced Tea (Low Cal) Recipe. Drinks Mixer. Retrieved Jan. 28,2015
http://www.drinksmixer.com/recipes/vw15159/
10 Skinny Cocktails. Web MD. Retrieved Jan. 28,2015.


The Low-Cal Mojito: All the Mojo Without All the Crazy Sugar. Curvy Girl Health. Retrieved Jan. 28,2015.
Reviewed January 30, 2015
by Michele Blacksberg RN
Edited by Jody Smith