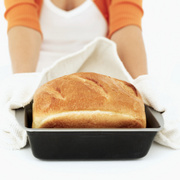 Photo: Getty Images
As the host of a perpetually weird menstrual cycle, I have been known to skip my period for many months at a time, or have light bleeding for only 3 days, or enjoy a very regular 28-day cycle for half a year and then have everything go haywire again at the drop of a hat. So recently, when my period lasted for 3 weeks, I was only slightly concerned. (Cause is yet to be determined, let me know if you have any insight!) Still, I decided that this extended bleeding time merited some extra care for my body. Specifically, I wanted to combat the effects of anemia – low levels of iron.
The Recommended Daily Allowance of iron for women ages 18-50 is 18mg/day. Recent studies have shown that only a small percentage of women actually meet this recommendation on a regular basis. Anemia can leave you feeling tired or weak, affect your ability to concentrate, and in extreme cases cause headaches, dizziness or poor circulation. Iron intake is important no matter your age and gender for its immunity boosting, cell-building properties, but for women of menstruating age, the nutrient is especially crucial. Because women generally lose about 15-20 mg of iron each month during their period, replenishment is important!
Below is a recipe for delicious, iron-rich quick bread. This sweet and easy snack/dessert is low in fat and high in fiber. Because the recipe uses molasses as a sweetener, one serving provides you with not only about 20% of your daily iron requirements, but also of calcium, magnesium and potassium. It is chock full of good nutrients, and might just satisfy that sweets craving too!
Ingredients
• 1 Egg (can be replaced with one mashed banana)
• 1/3 cup molasses
• 1 cup white flour
• ¾ cup whole wheat flour
• 1/2 teaspoon baking powder
• 1 teaspoon baking soda
• dash of salt
• 1 teaspoon cinnamon
• 3/4 cup oatmeal
• 1/3 cup brown sugar
• 1 cup milk
• 1 teaspoon vinegar
• ¼ cup raisins (optional)
Directions:
1. Preheat oven to 350°F
2. Combine flours, oats, salt, cinnamon, baking soda and baking powder in small bowl
3. Mix egg, molasses and brown sugar in large bowl
4. Slowly add dry ingredients to the molasses mixture, mixing until well combined
5. Mix teaspoon of vinegar into milk and add both liquids to the batter. The mixture should be smooth and thick – not runny. If too thin, add more oats.
6. Stir in raisins, if desired.
7. Bake 35-45 minutes or until knife inserted into bread comes out clean.
Enjoy with a tall glass of skim milk, and you will be well on your way to your recommended daily intake of iron, calcium, fiber and whole grains. Please report back with any good variations!!