In Our Genes

Dubbed the 'founding father of genetic art' by Newsweek, Darrin Grandmason launched In Our Genes (IOG), which creates apparel featuring the genetic fingerprint of diseases.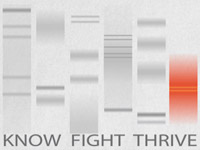 IOG is the frontrunner in fighting, managing and eliminating our most notorious killers by combining science, fashion, and compassion. IOG is guided by a consistent message of awareness, will and optimism, through its trademarked motto "Know. Fight. Thrive™."
Wearable art with the mission to save lives.
As a women's health company, EmpowHER commissioned In Our Genes to create a special edition signature T-shirt featuring the X-chromosome for women as well as the genetic markers for five of the top chronic health conditions affecting women. Those five include: Breast, Ovarian and Lung Cancer, Diabetes, and Heart Disease.
$5.00 from every purchase donated to support genetic research.
While messaging and awareness are crucial to the cure, money is also important. Our '5 for Thrive' program directs and donates $5 of each sale directly to research. The charitable tie is built into the merchandising allowing for a $5 donation from each purchase.