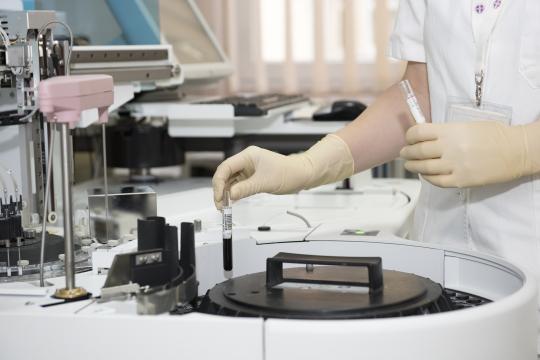 Via Pexels
With Michael Douglas' proclamation that he got throat cancer, as a result of oral sex, awareness is increasing surrounding the pervasiveness of HPV, or Human Papillomavirus. It's traditionally been regarded as a woman's virus, directly linked to cervical cancer, resulting in vaccines to prevent the contraction of HPV. Now, it's becoming clearer that HPV is no longer just a woman's problem. Both men and women can contract it, carry it and spread it: men typically suffer from throat and oral cancers, while women can develop cervical cancer. In fact, some 7,000 of cases of related head and neck tumors turn up each year nationwide.
Oropharyngeal squamous cell carcinoma is a cancer that affects the base of the tongue, back of the throat or tonsils, and it has been showing up in younger men at an alarming rate. In fact, in a 2009-10 study, it was reported that at that time, approximately 7% of Americans had a current oral HPV infection, and it was found that men were 3x more likely to have oral HPV than women, affecting 10.1% of men, versus 3.6% of women. Fortunately, while HPV can be detected in saliva, it has been shown to be primarily spread through sexual contact, rather than kissing.
Dr. Warren Line Jr. MD, ENT, is an ear, nose and throat specialist at the Roy and Patricia Disney Family Cancer Center. During Line's 25 years as a doctor, he has been seeing more of these types of cancers in younger male and female patients in the last decade, he said.
"It's an interesting phenomenon. Not long ago these cancers were most common in people over 50, particularly those who smoke and drink alcohol. As the smoking rates began to decline we [the health community] were expecting to see less head and neck cancers, but when the number of head and neck cancer cases went up we knew there was something else going on here," Line said.
Several large public health studies suggest what is going on is changing sexual behavior. Researchers found the cancers were forming in nonsmoking young men at an alarming rate. Pathology specimens show HPV 16, one of the most common cancer-causing strains of the virus, was present in the tumors of 72 percent of cancer patients tested.
"Many young people are abstaining from vaginal intercourse because they think they're being safer and they certainly eliminate the risk of an unplanned pregnancy. But," Line said, "if they engage in oral sex , which research findings show many of them do — they're still at risk for a whole host of sexually transmitted infections (STIs)."
Line said that having six or more oral sex partners over a lifetime is associated with a 3.4 times higher risk for oropharyngeal cancer, and 26 or more vaginal-sex partners tripled the risk. The association between HPV-related cancer increased as the number of partners in either category increased.
While most HPV infections clear with little or no symptoms, a small percentage of people, around 10 percent, who acquired high-risk strains can develop cancer.
Experts do not know why HPV lingers in certain cases but not others. However anyone who has ever had sex is at risk for HPV, Line said. He believes more young people — male and female — should be vaccinated for HPV.
At the Roy and Patricia Disney Family Cancer Center, head and neck cancers are successfully treated with innovative treatment options, such as sophisticated targeted radiation and chemotherapy that "melt away" tumors without destroying nearby healthy tissues and new targeted drugs.
Line said if the tumors are caught early, remission rates are high — between 80-90 percent for stage I and II, and 50 percent for stage IV cancers.
"This is very good news because this cancer type can be complicated to treat and surgery can have many more lasting side effects for the patient," he said. "Head and neck cancers may involve part of the tongue, voice box and other areas of the throat which can cause short and long term difficulty in swallowing, a dry throat and difficulty speaking for some patients."
Susan Jacobs is a nurse navigator that helps coordinate care for head and neck cancer patients at the Disney Family Cancer Center. With more than 30 years as an oncology nurse under her belt, she said these types of cancers can be tricky. While the statistics for cure is very good with this type of cancer, recovery can be slow.
Jacobs said it takes a multidisciplinary team of health experts to assist patients in obtaining their personal triumph over cancer.
For example, every neck and cancer patient sees a speech pathologist to help with any eating and swallowing problems. A physical therapist improves neck mobility and provides exercises to maintain the patient's energy level.
A nutritionist, a dentist and a psychologist are all available to work through any personal challenges. Some patients also see an acupuncturist to ease side effects of treatment, such as a dry mouth.
"I'm here to see that nothing falls through the cracks and patients get every service they need to recover from their cancer and return to their lives," Jacobs said. "I'm with patients every step of the way from diagnosis to recovery."
Head and neck cancer patients tend to suffer from lymphedema as the result of surgery or radiation therapy. Lymphedema causes severe swelling, typically in the head and neck areas.
The Center is one of the few area hospitals that offers patients lymphedema rehabilitation to relieve the swelling and help prevent future flare-ups. The process includes manual lymphatic drainage, compression therapies, exercises and education.
The Disney Cancer Center also offers many different types of complementary and alternative medicine that help patients better cope with their cancer treatment. For more information, visit their web site at www.triumphovercancer.org.
Sources:
Interview with Dr. William Line Jr. MD, ENT. May 24, 2012.
Interview with Susan Jacobs, RN., May 30, 2012.
"Prevalence of Oral HPV Infection in the United States 2009-2010" Journal of the American Medical Association, Jan 26, 2012. ML Gillison, T Broutian, RKL Pickard, Z Tong, W. Xiao, L Kahle, BI Graubard, AK Chaturvedi. Abstract at:
http://fulltextreports.com/2012/02/03/prevalence-of-oral-hpv-infection-i...
"Sexual Behavior, Sexual Attraction, and Sexual Identity in the United States: Data From the 2006–2008. National Survey of Family Growth". National Health Statistics Report, No. 36, published 3 March 2011, U.S. Dept. Health and Human Services, Centers for Disease Control and Prevention. Anjani Chandra, Ph.D., William D. Mosher, Ph.D., and Casey Copen, Ph.D., Division of Vital Statistics, National Center for Health Statistics; and Catlainn Sionean, Ph.D., Division of HIV/AIDS Prevention, National Center for HIV/AIDS, Viral Hepatitis, STD, and TB Prevention.
Accessed online at:
www.cdc.gov/nchs/data/nhsr/nhsr036.pdf
Human Papillomavirus-associated cancers fact sheet. "HPV-Associated Oropharyngeal Cancer Rates by Race and Ethnicity." Centers for Disease Control and Prevention. Accessed 25 May 2012 at:
http://www.cdc.gov/cancer/hpv/statistics/headneck.htm
Reviewed May 28, 2012
by Michele Blacksberg RN
Edited by Jody Smith
Read more in Roy & Patricia Disney Family Cancer Center at Providence Saint Joseph Medical Center