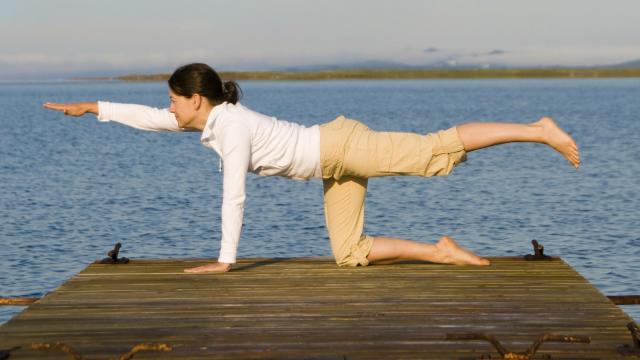 via MonkeyBusiness Images / PhotoSpin
By: Lynette Summerill
Historically, tai chi's slow, graceful movements have been practiced since the early 1700s to improve balance and relax the body and mind. These days, tai chi is rapidly gaining broad acceptance as means to improve the quality of life during cancer treatments.
Traditional Chinese Medicine practitioners have long held that tai chi exercises, known as "movements" balance the Qi (pronounced chee) essential to achieving good health and overall wellness. Western health professionals have adopted this ancient form of movement for use in cancer treatment regimens because tai chi offers patients improved concentration, greater strength and energy, better circulation and an increased sense of well-being.
Tai chi promotes longevity and good health and may be used in relieving tension, stress, muscle wasting and fatigue associated with cancer without known side effects, according to the American Cancer Society. What's more, the slow-flowing movements are generally thought to be the perfect exercise for all ages and no special equipment is necessary.
Recently, a University of Rochester study published in Medicine and Sport Sciencefound that tai chi improved the quality of life and functionality of women suffering from breast cancer or the side effects of their treatment, including lymphedema, allowing them to carrying out their daily activities with less pain and swelling. Women in the study who underwent 12 weeks of tai chi training improved their aerobic capacity, muscular strength and flexibility and self esteem, when compared to women in a control group that only received supportive therapy.
In a 2010 study, researchers at UCLA found that women who participated in tai chi movements after breast cancer treatment reduced their incidence of another common side effect, insomnia.
The researchers agree that tai chi can reduce stress and provide the same cardiovascular benefits as most moderate exercise, including a slower heart rate and lower blood pressure.
While tai chi is not a cure for cancer, it is an accepted complementary therapy recommended for people undergoing conventional cancer treatments like chemotherapy and radiation therapy.
In additional to cancer, tai chi has been many found to be beneficial for people suffering from arthritis, osteoporosis, chronic obstructive pulmonary disease, and peripheral artery disease.
If you have a limiting musculoskeletal problem or take medications that can make you dizzy or lightheaded, check with your doctor before starting tai chi. Given its excellent safety record, chances are that you'll be encouraged to try it.
For a FREE physician referral, to register for a class or to make an appointment, please call 1-888-HEALING (1-888-432-5464).
Read more in Roy & Patricia Disney Family Cancer Center at Providence Saint Joseph Medical Center