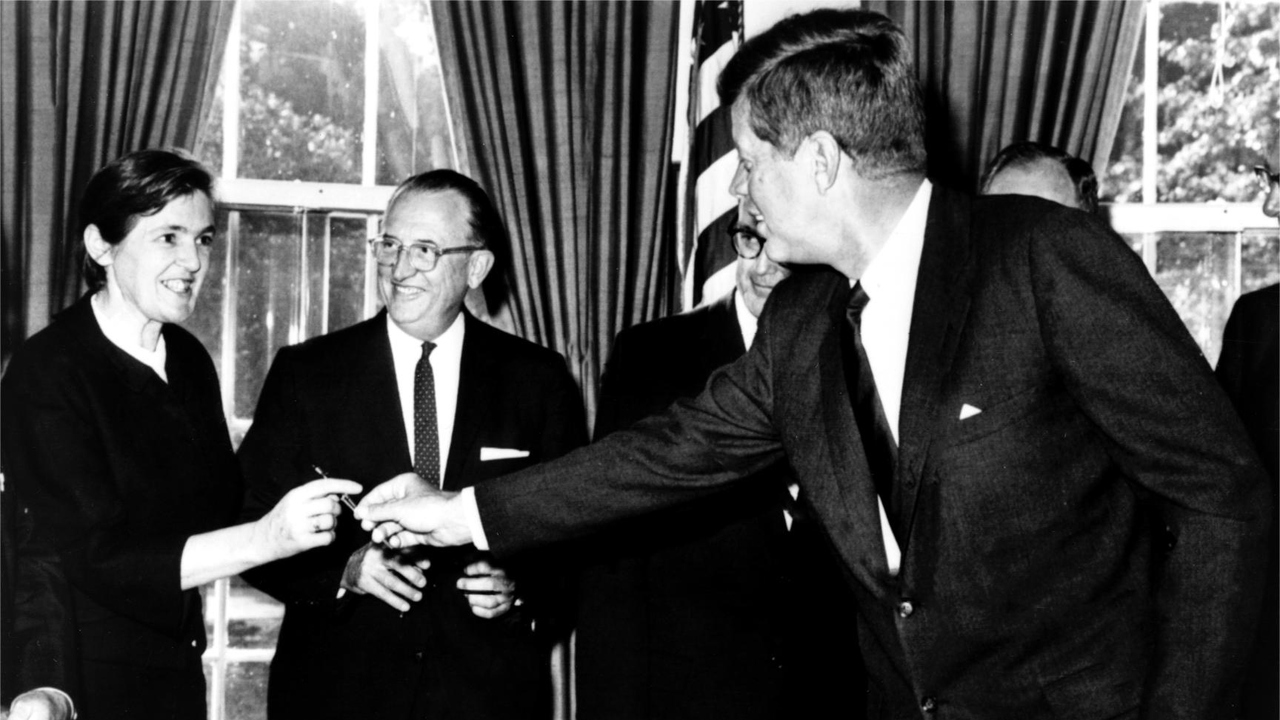 Via Wikimedia Commons
Canadian-born Frances Kelsey died this month at the age of 101, but it is not her longevity that she will be remembered for. In 1961, Dr. Kelsey had just begun working at the FDA, and was faced with a decision to allow a new drug called thalidomide to be used for morning sickness in the United States.
Thalidomide had been used by pregnant women in Europe for nausea, and had been sold as a sleeping pill. But Kelsey felt the drug needed more research regarding its safety and purity. She refused to give a rubber stamp of approval for its sale in the United States.
She asked the manufacturer, the William S. Merrell Company, of Cincinnati, to provide more safety evidence. In response, Merrell attempted to pressure her by complaining to her bosses that she was a "petty bureaucrat," fussy and stubborn. Merrell stood to make millions if the drug could be passed, but Kelsey refused to change her stance and held off approval.
By the end of 1961, the terrible news erupted that thousands of babies in Europe, Britain, Canada and the Middle East were being born with flipper-like arms and legs, as well as other birth defects, such as missing ears or deformities of the digestive tract. Thalidomide was found to cross the placental barrier and retard the growth of the developing fetus.
In the spring of 1962, Merrell withdrew its application to the United States, and the drug was removed from the shelves all over the world.
Because of Kelsey's actions, countless U.S. women were prevented from bearing children who would have suffered a similar fate. She was given honorary degrees and a medal by Congress, "for service to humanity and (she) passed legislation requiring drug makers to prove that new products were safe and effective before marketing them," reported the New York Times.
Kelsey was put in charge of the branch in the FDA which is responsible for putting in place more stringent rules to test and regulate new drugs. Out of these regulations came the requirements that drugs be shown to be both safe and effective, that a patient's consent is needed for participation in clinical trials, and that adverse reactions to drugs be recorded and reviewed by the FDA.
The irony is that Kelsey suspected that had the FDA known she was a woman, they might not have hired her.
She was born Frances Oldham in Cobble Hill, on Vancouver Island, in British Columbia, on July 24, 1914. She applied for the position with the FDA because her husband Dr. Fremont Ellis Kelsey had taken a job at the National Institutes of Health in Washington in 1960.
When she received her acceptance letter, it was addressed "Dear Mr. Oldham" by the FDA who mistook the name "Frances" for the male version spelled "Francis." Kelsey contemplated whether she should tell them that she was a woman, but a senior colleague dissuaded her and told her to just take the job.
In 1962, Kelsey "became the second woman to receive the President's Distinguished Federal Civilian Service Award," which was given to her by President John F. Kennedy, reported the Los Angeles Times.
Kennedy acknowledged that her "exceptional judgment in evaluating a new drug for safety for human use has prevented a major tragedy of birth deformities in the United States. Through high ability and steadfast confidence in her professional decision she has made an outstanding contribution to the protection of the health of the American people," the National Library of Medicine states in her biography.
Dr. Kelsey worked for the FDA until she retired in 2005, at the age of 90.
Sources:
Frances Kelsey dies at 101; at FDA, doctor blocked sale of thalidomide in U.S. Retrieved August 16, 2015.
http://www.latimes.com/local/obituaries/la-me-frances-kelsey-20150809-st...
Biography Kathleen Frances Oldham Kelsey. National Library of Medicine. Retrieved August 16, 2015.
http://www.nlm.nih.gov/changingthefaceofmedicine/physicians/biography_18...
Frances Oldham Kelsey, Who Saved U.S. Babies From Thalidomide, Dies at 101. New York Times.com. Retrieved August 16, 2015.
http://www.nytimes.com/2015/08/08/science/frances-oldham-kelsey-fda-doct...
Michele is an R.N. freelance writer with a special interest in woman's health care and quality of care issues.
Edited by Jody Smith