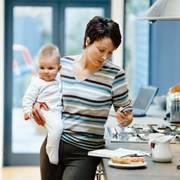 Digital Vision/Photodisc/Thinkstock
The two year old program, Text4baby, is showing signs of a positive impact on the community of pregnant and new moms that it was designed to reach.  Text4baby launched in February 2010 by the National Healthy Mothers, Healthy Babies Coalition (HMHB) as the first free health text messaging service in the United States.  
Mothers of young children and moms-to-be can sign up for the free service which then texts age- or gestation-specific information on health screenings, immunizations, and other health-related information, right to their mobile phone.  
The mothers receive three accurate, personalized texts to their phone each week throughout their pregnancy and their child's first year of life. The program has reached 300,000 women to date.
Text4baby was started because the HMHB wanted to find a way to reach the masses of women having children who may not have daily access to the Internet or the health information it can provide. Since 85 percent of Americans own a cell phone and 77 percent of them receive and send text messages, a texting program seemed appropriate.  
In the last two years Text4baby has sent more than 29 million maternal and child health texts to its subscribers. Pregnant women and new moms can sign up by texting "BABY" (or "BEBE" for Spanish-language content) to 511411 and entering either their expected due date or newborn's age.
Thanks to partnerships with the leading mobile phone carriers, these texts are totally free, even to those without a text messaging plan. And they will not count against one's limit if one has a limited text plan.
The necessity of Text4baby is very real.  Over 500,000 babies are born prematurely each year, and 28,000 don't live long enough to celebrate their first birthday.  These statistics are caused by a variety of issues including poverty, limited access to health care and negative health behaviors in the mothers.  
The hope behind the Text4baby program is that it will reach the mothers and pregnant women who need it most, to give them the health information they may never have received.  This information can help them make better choices when it comes to their health and that of their born and unborn children.  
And it seems as though the desired effect is taking place.  In a 2012 study conducted by the National Latino Research Center at California State University San Marcos and the UC San Diego Department of Reproductive Medicine with support from the Alliance Healthcare Foundation, women who participated in the Text4baby program reported the following significant benefits:
-63 percent of the women participating reported that Text4baby helped them remember a doctor's appointment or health immunization that they or their child needed.
- 75 percent of participants reported that the free text4baby messages gave them information on medical warning signs that they did not know before reading the message.
-71 percent of the Text4baby subscribers told researchers they talked to their doctor about a topic that they read on a Text4baby message.
The full impact of this program may not be known for a long time, but in only two years it has proven itself to be a valuable asset to many moms, moms-to-be and their children. The hope is that its outreach will continue to grow.
Sources:
Text4baby.com. Web. 27 February 2012. "About Text4baby". http://www.text4baby.org/index.php/about
Pr.com. Web. "Text4baby birthday event  highlights neat health". Http://www.pr.com/press-release/392376
Text4baby.com. Web. Published 23 February 2012. "ACOG announces partnership with Text4baby". http://www.text4baby.org/index.php/news
Reviewed February 28, 2012
by Michele Blacksberg RN
Edited by Jody Smith