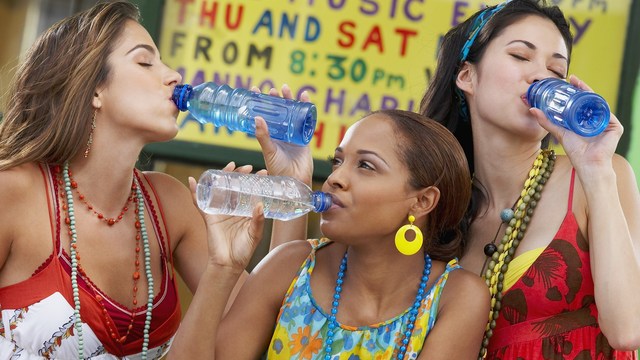 PS Productions/PhotoSpin
I am always yelling at my husband when he microwaves plastic containers, or drinks out of plastic water bottles that may have been sitting in his hot car while he was golfing.
My aversion to BPA was heightened after an interview I conducted with Breastcancer.org founder Dr. Marisa Weiss. After being diagnosed with invasive Stage 1 cancer in her left breast Dr. Weiss made some lifestyle changes, and one of those changes included cooking with plastic containers.
For my 2011 interview with Dr. Weiss, you can click here.
According to CNN, "Bisphenol A, or BPA, and phthalates are often called everywhere chemicals because they're found in so many products -- from the water bottle you to take to the gym to the flooring in your kitchen."
For years, medical experts like Dr. Weiss have been cautioning us about the possibility of BPA interrupting our bodies' hormones.
In Boston, at the annual conference of the American Society for Reproductive Medicine, several studies were released which followed healthy couples trying to have a baby. The researchers tested the couples for BPA, as well as phthalates.
According to the Centers for Disease Control and Prevention, "phthalates are a group of chemicals used to make plastics more flexible and harder to break. They are used in products such as detergents, beauty products and children's toys. People are also exposed to phthalates by eating and drinking from containers containing them."
One of the studies released at the conference examined more than 114 women. At four or five weeks into their pregnancies, these pregnant women gave blood samples. Out of the 114 women, 68 of the pregnancies ended in miscarriages.
After examining the blood samples, which were not tested until after the miscarriages or birth, researchers noted "that women who had high levels of BPA in their blood were at significantly increased risk of miscarriage compared to women with the lowest levels."
In another study, researchers followed more than 500 couples trying to have a baby. The study found that men with high concentrations of phthalates took longer to get their partners pregnant, and also had a 20 percent decline in fertility as compared to those with lower concentrations of phthalates in their systems.
In an October 15, 2013 article on CNN.com, Linda Giudice, who was at that time the president of the American Society of Reproductive Medicine, stated that "Phthalates are anti-androgens, and other studies have shown that environmental levels of phthalates in infertile men correlate with increased rates of sperm DNA damage, low sperm counts and abnormal sperm."
Also, previous studies in rodents revealed a plethora of health issues which include reproductive problems.
It is important to note that phthalates are endocrine disruptors that interfere with our hormone systems. To reduce exposure to phthalates, drink filtered water, drink out of glass containers, and microwave using glass containers. Also, do not microwave plastic products or drink from plastic containers that have been exposed to heat.
Sources:
Henry, Trish. "BPA, Phthalate Exposure May Cause Fertility Problems." CNN. Cable News Network, 01 Jan. 1970. Web. 30 July 2014.
http://www.cnn.com/2013/10/15/health/bpa-miscarriage-phthalates-fertility
"BPA Exposure during Pregnancy Raises Miscarriage Risk." NaturalNews. Web. 30 July 2014.
http://www.naturalnews.com/045196_BPA_exposure_pregnancy_miscarriage_risk.html
Reviewed July 31, 2014
by Michele Blacksberg RN
Edited by Jody Smith
Tags: