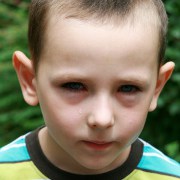 Photo: Getty Images
According to the American Journal of Infection Control, more than three million school days in the U.S. are missed every year due to acute conjunctivitis. Pink eye and conjunctivitis are the same medical condition. Pink eye is fairly common in children and even adults.
There are several types of pink eye. Types of pink eye include: allergic (dust mites, pet dander, etc.) irritant (swimming pool chlorine, smog, etc.), bacterial, and viral. Bacterial and viral are both highly contagious forms of pink eye. Allergic and irritant pink eye are not contagious.
How do you get pink eye? According to the American Academy of Ophthalmology there are several ways to get pink eye. Some of them include:
• Touching your eyes
• Reusing handkerchiefs and towels when wiping your face and eyes
• Using old cosmetics, and/or sharing them with other people
• Forgetting to wash your hands often
• Not cleaning your contact lenses properly
Children are usually most susceptible to getting pink eye from bacteria or viruses because they are in close contact with so many others in school or day care centers.
The Centers for Disease Control and Prevention (CDC) and National Institute of Health (NIH) state the following are pink eye symptoms:
• Crusting of the eyelids and eyelashes
• Sensitivity to light
• Gritty feeling in the eye
• Redness or pinkness in the eyes
• Itching of the eye
• Burning eyes
• Increased tearing
• White, yellow or green eye discharge
• Eye pain
• Blurred vision
Pink eye treatments include the following:
• For allergic pink eye, treat with an over-the-counter antihistamine and apply cold compresses.
• For bacterial pink eye, your doctor may prescribe an antibiotic eye drop.
• For viral pink eye, the symptoms will disappear after one-two weeks.
Here are some other pink eye remedies:
• Purchase an over-the-counter eye drops (like artificial tears).
• For bacterial or viral pink eye, apply a warm compress to the eyes. Soak a lint-free cloth in warm water and ring out excess water. Gently apply the compress.
• For allergic pink eye use a cold compress.
The American Academy of Ophthalmology website states there are several things you can do to prevent pink eye. Pink eye prevention tips include:
• Change pillowcases frequently
• Wash hands often
• Avoid touch your eyes
• Avoid reusing towels, washcloths, handkerchiefs and tissues to wipe your face and eyes
The CDC recommends seeing your health care provider if your pink eye has an intense redness of the eye, causes severe to moderate pain, increased blurred vision and increased sensitivity to light.
Sources:
CDC Features - Pink Eye: Usually Mild and Easy to Treat. Centers for Disease Control and Prevention. Retrieved September 8, 2011, from http://www.cdc.gov/features/conjunctivitis
CDC - Conjunctivitis: Home page. Centers for Disease Control and Prevention. Retrieved September 8, 2011, from
http://www.cdc.gov/conjunctivitis
Conjunctivitis: What Is Pink Eye? Get EyeSmart - Eye Health Information for the Public from the American Academy of Ophthalmology. Retrieved September 8, 2011, from
http://www.geteyesmart.org/eyesmart/diseases/conjunctivitis.cfm
Conjunctivitis - PubMed Health. National Center for Biotechnology Information. Retrieved September 8, 2011, from http://www.ncbi.nlm.nih.gov/pubmedhealth/PMH0002005/
Conjunctivitis: MedlinePlus Medical Encyclopedia. National Library of Medicine - National Institutes of Health. Retrieved September 8, 2011, from http://www.nlm.nih.gov/medlineplus/ency/article/001010.htm
Pinkeye (Conjunctivitis) . KidsHealth - the Web's most visited site about children's health. Retrieved September 8, 2011, from http://kidshealth.org/parent
http://kidshealth.org/parent/infections/eye/conjunctivitis.html#
What Every Parent Should Know About "Pink Eye". Get EyeSmart - Eye Health Information for the Public from the American Academy of Ophthalmology. Retrieved September 8, 2011, from
http://www.geteyesmart.org/eyesmart/eye-health-news/focus20110912.cfm
Reviewed September 9, 2011
by Michele Blacksberg R.N.
Edited by Jody Smith