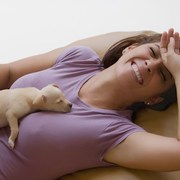 PS Productions/Photospin
It has been more than a year since our family lost our beloved cat of eleven years to a sudden heart attack.
He was such an important member of our family. Our boys continue to talk about him nearly every day.
My husband loved our cat as much as the rest of us but has made no secret to the fact that he also loves dogs.
"Boys need puppies," he likes to say.
"But moms need their sanity," I usually respond.
Before we got married, we went through marriage classes, a requirement of the church. The classes initiated discussions on topics like finances, commitment and children.
They should have added pets to the list of topics.
My husband grew up with dogs. He loves dogs. I think he always intended on having another dog. I am not really a dog person.
It is like the couple who doesn't want children.
"We love children. Other people's children. We don't want any of our own."
That is me with dogs. Dogs are great, when they belong to other people.
It has been in the last couple of months that the kids have started asking for another pet. Although it has been over a year since we lost our cat, I am still heartbroken over him.
Not to mention, I am at my limit with the kids, the house, my work, volunteering in school, etc. I barely have time to sleep, I have no time for a new pet.
This is what I tell my husband.
Fast forward to weeks later as I find myself sitting in the passenger seat of my car with the most adorable three-month-old puppy on my lap. He is a rescue dog, abandoned before he was 3 months old. We have agreed to foster him for the night.
We did? Wait a second, what just happened?
The boys are beyond excited as they bounce and chatter in the back seat. My husband's eyes sparkle as he grins from ear to ear.
I can't take my eyes off the little puppy that sits quietly on my lap and looks up at me like I am the greatest person in the world.
It is impossible not to fall for this puppy. We are all crazy about him. Our foster puppy quickly becomes our adopted puppy.
The things that I didn't think that I had time to do, somehow manage to get done. I bath him, cuddle him, and tell him that he has a home and a family and will never be alone again.
He looks at me with love, as if he understands exactly what I am saying.
I praise him when he goes to the bathroom outside. I feed him by hand when he doesn't seem to want to eat. I check on him several times during the night, just to make sure that he is sleeping soundly.
I am a good dog Mom.
Life can be filled with surprises.
Edited by Jody Smith